14 years' of volunteering: Jeanne Krabbendam & the Art Room
Coast Mental Health's work would not be possible without the generosity of individuals who give not just financially, but also of their time and expertise as volunteers. For 14 years, artist and Emily Carr instructor Jeanne Krabbendam has enriched the lives of clients in our Art Room as a mentor and friend.
It's a dark, grey December day but the Art Room at Coast's Resource Centre is made vibrant by the artwork that hangs on the walls, and the creative energy of those focused on works in progress. Today, it's particularly busy, with volunteers, staff, and artists coming together to thank one of the Art Room's longest volunteers, Jeanne Krabbendam, on her final day.
"I'll miss being here for sure," Jeanne says with a smile. A well-established artist and sought-after instructor, she is stepping back from a formal volunteer role at the Art Room due to increasing teaching commitments. But it hasn't been an easy decision.
"We volunteers are very fortunate because we have time to get to know people and build friendships. There aren't any assessments we have to fill out. We don't need to know anything about the clients using the Art Room. Sometimes a new volunteer will ask, 'What is that person's history?' and I'll answer I don't know. I'm here as an artist. We're artists among artists – equals and friends."
Jeanne started volunteering at Coast shortly after moving to Vancouver from Europe.
"When I first arrived in Vancouver, I was shocked by what I saw. There were so many people living on the streets – it was very upsetting. I had been to Berlin, Amsterdam and Paris and those cities didn't have issues the way Vancouver does."
"When I told a friend about this, she said, 'But there are people who are doing something,' and that's how I found out about Coast Mental Health."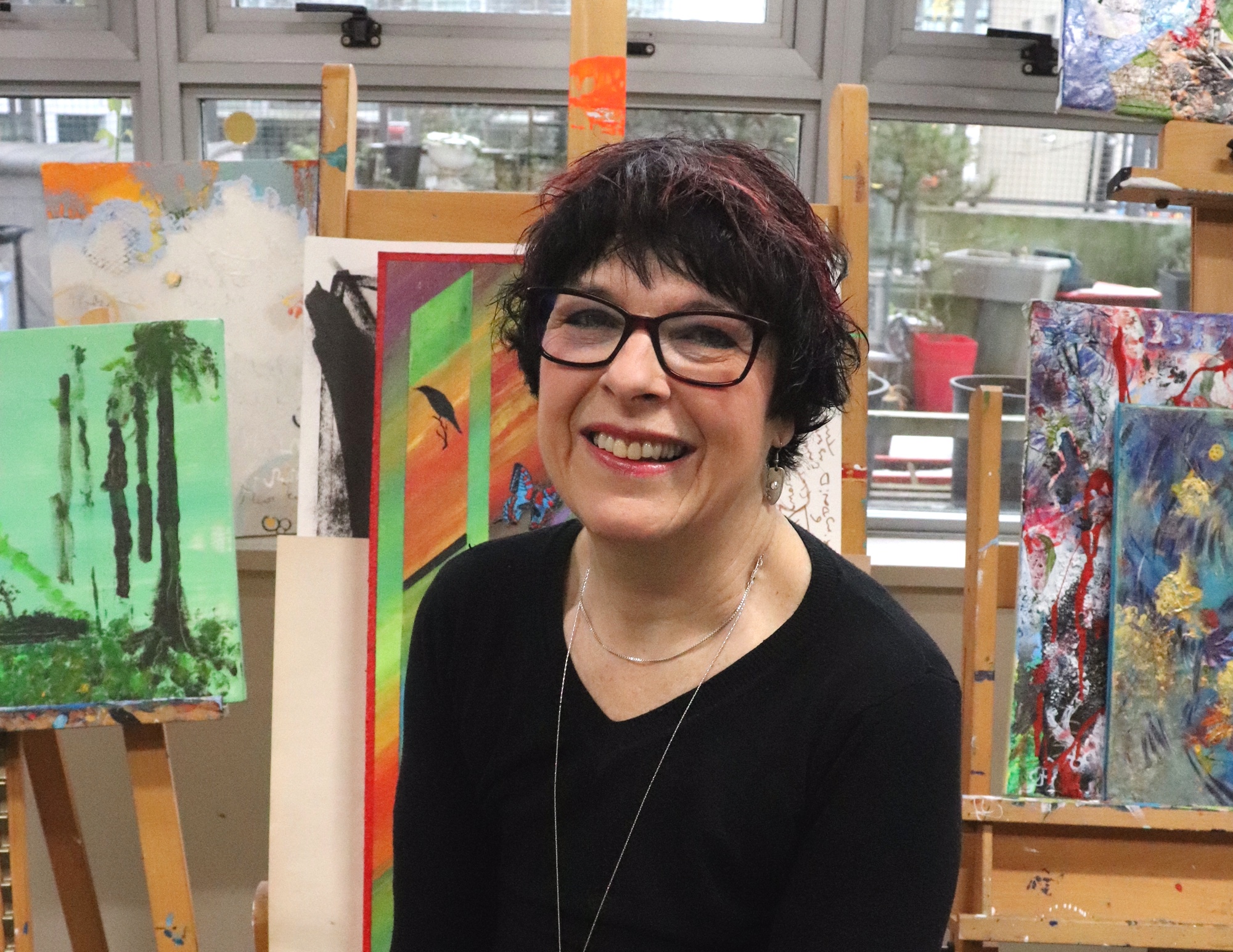 Jeanne volunteered to give a six-week painting course at the Art Room, which was still in its infancy. What started as a six-week course ended up becoming a 14-year commitment. After the painting course, she introduced a mixed-media course.
"I wanted to encourage people to experiment with different objects and textures. I'd say, 'You like this? Why not put it on your painting?' It was about opening up their creativity and perspective."
Although Jeanne has given so much to the artists at the Art Room, she's quick to emphasize all that she has gained from volunteering.
"Volunteering at the Art Room has given me friendship," she says.  "When friendship is at the heart of it, 14 years seem like no time at all."
The Art Room is located at Coast's Resource Centre at 1225 Seymour Street in downtown Vancouver.
Click here for more information on the program and the Resource Centre.
Click here for more information on volunteering with Coast Mental Health.