Volunteer
Share your unique skills by volunteering with us!
Every year, more than 300 regular volunteers contribute over 5000 hours to supporting Coast's work. From one-on-one positions to our amazing event volunteers, to our hardworking board members, our volunteers are integral to helping clients recover from mental illness.
As a Coast volunteer, you'll share your time, skills, interests and energy to support clients on their path to realizing their potential, while overcoming individual challenges. Together with other members of the Coast team, you will help clients define and meet their own social, psychological, physical, recreational and spiritual goals.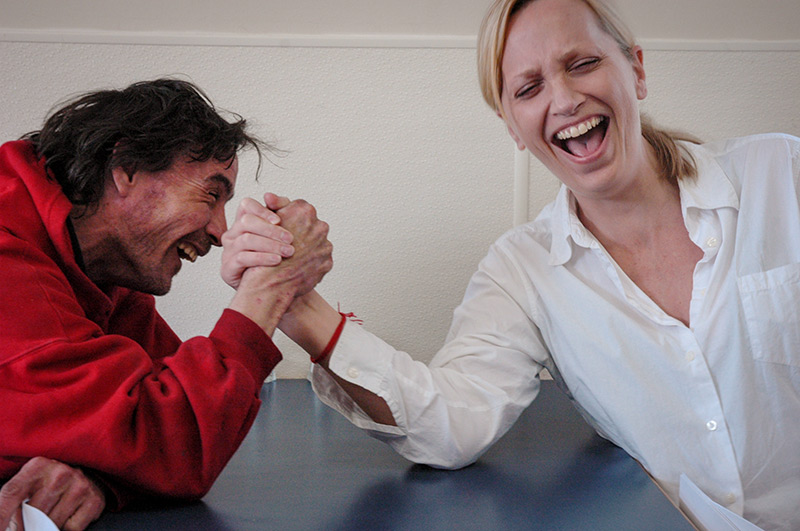 A Coast volunteer role is a great fit for:
Those who are considering or are already going to school for and/or working in the health care sector, social work, mental health rehabilitation and want to develop skills and experience working with individuals recovering from mental illness.
Those who enjoy accompanying individuals or groups on outings, day-to-day tasks such as doctor's appointments or grocery shopping, festivals and concerts, etc
Those who love feel-good, personally rewarding volunteer experiences!
We offer a variety of roles in different areas of our organization. Visit our GoVolunteer profile or contact our Volunteer Manager, Val Mayne.
Meet Coast's volunteers!
April Tian

A 4th-year Pharmacology student at UBC­, where she also works part-time in the Pediatrics Audiology Lab helping with infant research, April joined Coast's volunteer team summer of 2017 and is already forging enjoyable relationships.

April says, "It hasn't been a very long time but I've already met many new people. I like the fact that I get to work in a unique environment at the houses. Establishing friendly relationships with the people at the houses and making everyone happy is one of the most rewarding aspects of this position".

In her spare time, April enjoys the gym where she finds it "very calming". When it's cold out, she enjoys hot chocolate and cuddling her cats on rainy days! Apart from the rain, April enjoys the diversity of Vancouver and especially the huge selection of food on offer, adding that "food from so many different cultures is something I had never experienced back home".

Independent and open to new experiences, April hopes to eventually have a career in the health sciences profession so that she can give back to the community. In the meantime, she's enjoys volunteering with Coast as it's one of the most relaxed and rewarding positions she's ever had.  
Pat is passionate about food and has been cooking seriously since high school. His passion has seen him work in a variety of restaurants and taken him on extensive journeys to the Far East to expand his culinary knowledge.

Pat says, "I've had cooking jobs for many years. I love cooking. It's a big part of my family. My cousin works for Coast and had good things to say about the organization and I'd been looking for somewhere to cook. Food really gets Pat's creative juices flowing and his volunteer work with Coast allows him the scope to show off his skills away from the intense pressure of some restaurant kitchens.

By day, Pat is the Director of Technology and Innovation at Integrated Sustainability –a company that specializes in finding modern solutions to water and waste management. Although Pat misses the winter sunshine of Calgary, he loves living in a city that offers so many outdoor activities and he's an active hiker, climber and mountain biker.

"I really enjoy volunteering at Coast, because it takes all the pressure from the kitchen that I'm used to out of the equation. In a fancy French restaurant if you cut a carrot a little bit wrong you get yelled at, but at Coast any extra little skill I can do and everyone is like, 'Wow! How did you do that?' That's very rewarding."

Pat Leslie
Esther Oh

Esther is a lawyer at Norton Rose Fulbright Canada LLP and has always been an active volunteer in the community during her years as a student. She has a passion for psychology and mental health and saw the volunteer role at Coast as an ideal opportunity to put her passion into work.

As a one-one-one support worker, Esther visits her client once a week to accompany them on a variety of social activities, such as visiting the Art Gallery and taking a walk on the beach. Since joining in March, she has developed a connection with her client and looks forward to spending time together every week.

Esther has found this experience to be rewarding and appreciates how she is able to learn so much from her client through their weekly interactions. She is inspired by the wisdom and positivity demonstrated by an individual who has been through lots of hardships. 

Outside of work and volunteering, Esther enjoys reading and weightlifting. When she takes a break from reading, she can be found indulging in some delicious Thai or Mexican food at a local restaurant.

When the weather becomes nicer, Esther hopes to go hiking with her client. Her favorite hiking spot is the the Capilano River Regional Park. She finds nature restorative and looks forward to sharing the experience with her client.