Employment & Education
Employment boosts self-confidence, adds meaning to our lives, and improves financial independence. Returning to work or beginning training that supports a return to work is both a milestone in recovery and a pathway to a better future. 
Coast's key employment and employment-based training programs – the Culinary Skills Training Program and Transitional Employment Program, including the Young Adult Program – focus on building clients' skills and supporting them in transitioning into meaningful work. Through the Coast Social Enterprise Foundation, Coast also operates two social enterprises: Social Crust Cafe & Catering and Landscaping with Heart. Supporting these businesses is another way to help reduce stigma and support those recovering from mental illness. 
Culinary Skills Training Program 
The Culinary Skills Training Program offers youth recovering from mental illness or with other barriers to employment with training, coaching, and work experience so that they can enter the labour force or continue further culinary schooling.
The program recruits students on an ongoing basis for the Spring, Summer and Fall cohorts. To download an application, click here. For more information, contact Culinary Manager, Margaret Flynn by email or call 604.838.3533.
The Culinary Skills Training Program includes two components. The first part consists of six-weeks of basic culinary skills where students train in a commercial kitchen in Coast's Pacific Coast Apartments under the guidance of three Red Seal-certified chefs. In between these two components is a one-week long practical assessment. The second part is a nine-week work experience practicum (with the option to extend to a maximum of 18-weeks) in Coast's Social Crust Café & Catering, a Coast social enterprise located in Pacific Coast Apartment's commercial space at 335 West Pender Street.
While the program offers youth tangible job skills, that's just the beginning of its impact. In a supportive and caring environment, these youth learn about team-building, collaboration and how to continue to manage their mental health when they enter the workforce. Since the program's beginning, over 20 youth have completed the training and eight are currently employed in the café on a part-time basis. Three of the program graduates were accepted into Vancouver Community College's advanced culinary program and several others are employed in the sector.
No other organization offers culinary training and work experience coupled with the support that at-risk youth need to succeed. 
Social Crust Café & Catering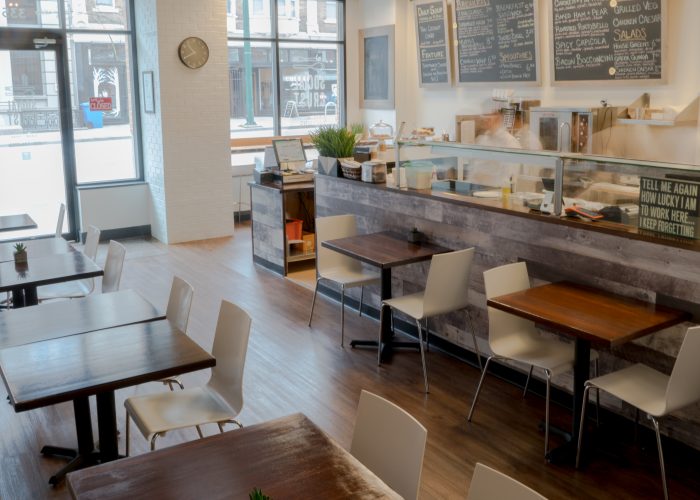 The Social Crust Café is still open for take-out menu options. Place your order by phone at 604-684-3352, or stop by the Café to order a delicious fresco-style meal to go. You'll also be supporting a social enterprise that  assists young adults in building job-ready skills and work experience through Coast Mental Health's Culinary Skills Training Program. With each order, we're working together as a community to reduce barriers of entry to employment for people living with mental illness.
Café Menu (Take-out orders only): Freshly made breakfasts, sandwiches, daily soups, salads. Looking for a local coffee spot with colleagues, check out our lattes, cappuccinos and Vancouver's favourite brewed coffee.
Hours of operation: Monday to Friday 8:30 a.m. to 2 p.m. We're closed on all statutory holidays.
Visit www.socialcrustcafe.com to learn about our special events like our pop-up Guest Chef Nights.
Landscaping with Heart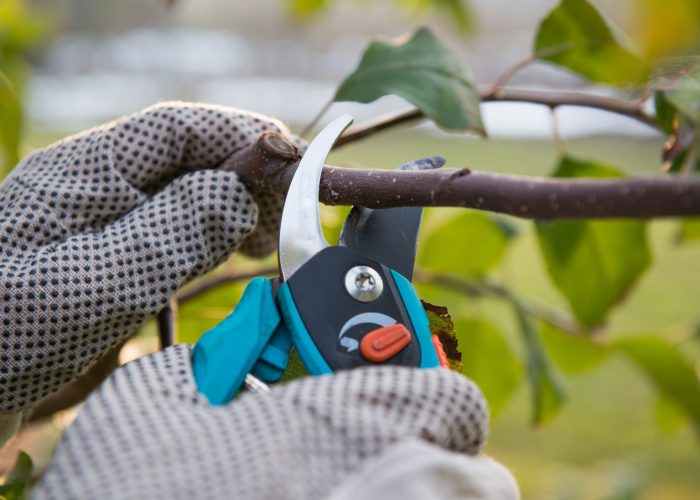 The Landscaping with Heart social enterprise offers clients professional landscaping training and employment. The landscape team takes pride in their work and has excellent relationships with their customers who are social housing, private residents and community agency properties. Landscaping with Heart offers professional pruning, power raking, leaf raking and removal, seeding, weeding, edge trimming, fertilizing, mowing and lawn aeration, and spring and fall clean-up.
For more information and a free estimate, call 604.675.2348 or email landscapes@coastmentalhealth.com.
Transitional Employment Program (TEP) & Coast On-Site Solutions
The Clubhouse is home to Coast's Transitional Employment Program and Coast On-Site Solutions street cleaning team. Once clients gain experience in one of the Clubhouse employment units, they may join this program, which gives them the opportunity to take on temporary, paid work contracts in entry-level positions and includes a work reference based on their contributions to the Clubhouse. It also allows individuals to try various jobs in a supportive environment without the stress of interviews, being trained by strangers or losing a job because of health-related absenteeism.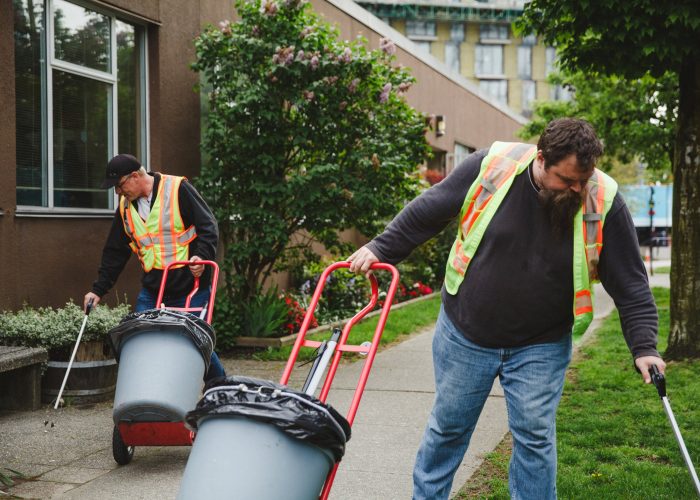 Clients re-enter the workforce with support from Clubhouse staff who are certified employment counselors. Once members have completed their TEP contracts, they may start another TEP placement or seek independent employment or training equipped with a recent work reference. Coast On-Site Solutions, a street cleaning team used by some 20 local businesses and organizations, is one of Coast's most successful TEPs.
Coast Clubhouse Employment
The Clubhouse employment training program is integral to the Clubhouse's smooth daily operations. When members join, they must choose to participate in one of three employment units that help them gain meaningful vocational skills and experience while becoming part of the community. At the same time, these units are a springboard to further employment and education opportunities within Coast and with Coast partners. The employment units include: 
The Environmental Unit, which teaches janitorial and gardening skills. Workers in this unit are responsible for keeping the Coast administration building clean and surrounding gardens beautiful.
The Food Service Unit, which teaches members how to plan, prepare and serve daily lunches while learning cooking, cleaning and cashier skills.
The Communications and Reception Units, which assist with Managing reception and member communications. Members learn computer skills and reception duties, and publish a newsletter.
The Clubhouse is located at 293 East 11th Avenue  in Vancouver, and is open Monday to Friday from 8:30 a.m. to 3:45  p.m. Individuals wishing to become members are welcome to drop in and speak to staff about membership and to learn more about our employment programs.
Coast Young Adult Program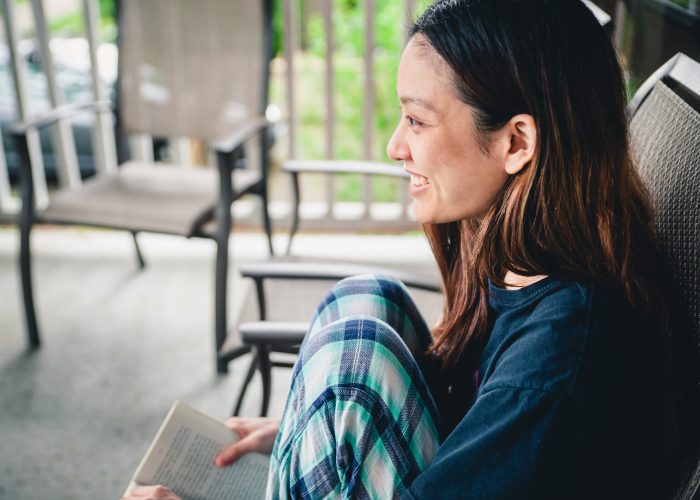 Based out of the Coast Clubhouse, the Young Adult Program is designed for young adults (ages 19 to 30), and incorporates creating a supportive community based on learning life skills, exploring recreation and building a peer platform.
With guidance, members work towards their mental, physical and emotional well-being through support and recovery in mental illness. The program prepares participants in discovering appropriate and enjoyable future work/volunteer opportunities in their communities. They create their own participation goal plan based on their individual situation at time of intake. Intake and program is ongoing and flexible working with members where they are at; absences and change are expected throughout program.
Participants of this program are also members of the Coast Clubhouse and are encouraged to participate in regular Clubhouse activities including meals, volunteer work and our Transitional Employment Program (TEP).
For more information, referrals or to schedule an intake contact Jolene at Coast Mental Health Clubhouse by email at youngadults@coastmentalhealth.com or by phone at 778-222-5246. Information sessions also available by request.
Click on the calendar below to find out what activities are happening with the Young Adult Program in May 2022.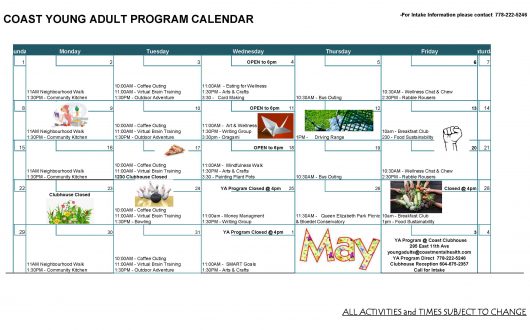 Coast Clubhouse Learning Centre
In partnership with Vancouver Community College (VCC), Coast is proud to offer classes for individuals who wish to upgrade their english, mathematics, and basic computer skills. Grade 3 through 8 equivalency courses are taught by a VCC instructor. Sessions take place every semester and run twice a week in the afternoons. For more information, contact the Coast Clubhouse Learning Centre at 604.675.2363.
Education Assistance Fund
Coast's Education Assistance Fund has been helping clients improve their career prospects for more than 20 years. Recipients have gone on to careers such as professional cook, medical lab assistant, tea sommelier, community mental health worker, building service worker, carpenter, licensed caregiver, custom broker, longshoreman, building manager, early childhood educator, security guard, and computer network instructor. Many clients also receive funding for first aid, Workplace Hazardous Materials Information System training, and FoodSafe certifications which can then lead to job opportunities.
 Applicants must have clear employment goals and demonstrate that the courses they want to take will improve their ability to find work. They must also demonstrate they have the support required to successfully complete their courses. The Education Assistance Fund is made possible by donations; the number of people who are assisted annually depends on the amount donated each year.
English for Life
This class runs two days a week for six weeks and is taught by a specialized consultant and co-facilitated by a Clubhouse employment counselor with a teaching background. English for Life is geared towards people who may not fit into regular ESL classes. It aims to build confidence in order to address social isolation and encourage participants to take steps to improve their quality of life.  Students learn general skills such as talking on the phone, asking directions or finding out banking information. Graduates have improved their confidence and English-speaking skills and several have gone on to paid employment and active volunteering. English for Life is offered based on available funding.
For more information, contact the Clubhouse at 604.675.2357.