COVID-19 Updates
We're operating at full capacity
We're pleased to announce that all our day programming and support services are running again as of April 2022.  
As per Health Authorities guidelines, all staff will continue to wear masks. To ensure everyone remains healthy, we encourage clients and guests at our facilities to do the same.
Health and safety protocols and cleaning schedules initiated during the pandemic will continue at all Coast Mental Health's sites.
The Resource Centre (RC)
The Resource Centre has resumed its day programming.  This includes the Art Room, gardening club and honourarium work opportunities.
All staff will continue to wear masks at this location. We encourage visitors to do the same, but recognize it's no longer mandatory for people to wear a mask in public.
Contacts:
Outreach services: T 604-669-2447
General Information: T 604-683-3787 Mobile 604-603-9151
Honourarium work: T 604-683-3787
Clubhouse
The Clubhouse is now open with daily programming, social activities, and a lunch service.
All staff will continue to wear masks at this location. We encourage visitors to do the same.
Hours of operation and contacts:
·       Clubhouse: T 604-675-2357
·       Hours of Operation: Monday, Tuesday, Thursday, and Friday 8:00 a.m. to 3:45 p.m.
·       Wednesday 8 a.m. to 5:45 P.M.
Housing facilities: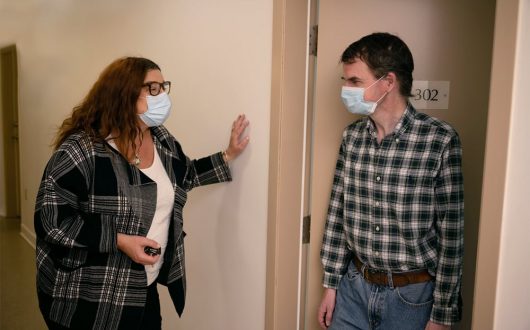 We're asking visitors to continue to take precautions when visiting one of our facilities, as some of our clients have compromised immune systems. If a guest is unsure whether they're sick or not, and what they may unknowingly carry into the building, we suggest rescheduling your visit or plan for another way to connect, such as FaceTime or Zoom.  If you're unsure, please call ahead and speak to the housing manager.  
Thank you to our supporters! 
We've received incredible kindness and support from the communities we serve throughout 2020/2021 fiscal. Thanks to the much-needed in-kind donations, such as surgical procedure masks, disposable gloves, gowns and face shields, we were able to expedite vital personal protective equipment to our clients and staff.
Our employees continue to pivot to create practical solutions to our new operating environment. This includes virtual mental health therapies to help manage symptoms, and the cognitive and emotional challenges of mental illness. We have also distributed many social distancing support packs for some of our more isolated clients.