COVID-19 Updates
Our doors are open and on-site safety plans are in place to keep everyone safe.
On June 15, 2021, the Provincial Health Officer (PHO) of B.C. announced the transition to Step 2 in BC's Restart Plan. Please see below for more details on our services. 
Head Office is open, but as a precaution, it's by appointment only. We're asking people to call ahead to schedule an appointment with a member of staff. By limiting the building capacity at each site, we all stay safe.
The Resource Centre (RC) and Clubhouse are open but with limited services.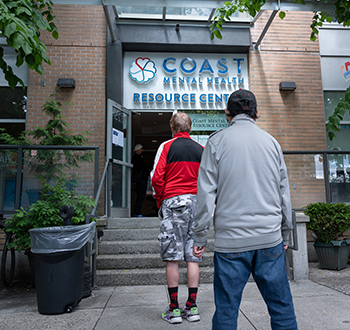 The Resource Centre (RC)
The RC is offering services by appointment only. Our social programs (art and crafts, games, gardening, and music appreciation) have restarted between 2:15 p.m. and 3:30 p.m. each day. Until further notice, snacks will not be served during this time. 
A maximum of 25 people will be able to sign up each day, either in advance or on the day. The group will be split between the two floors of the building to maintain the Provincial Health Officers safety protocols.
We encourage members to call ahead and schedule their appointments with staff.
Meal-to-go Program:
The meal-to-go programs continue at the RC, for both breakfast and lunchtime meals.
Laundry and Showers:
The RC laundry services and showers are still available to members, but there's only morning and afternoon slots available. Members are asked to sign up to request a spot. Sign-up sheets are available during breakfast and lunch take-out services.
Current hours of operation:
Coast Mental Health employees are available between 8:30 a.m. to 4:30 p.m. Tuesday to Saturday to answer phone calls and meet with clients.
Social Programming: 2:15 p.m. to 3:30 p.m. Tuesday to Saturday
Meal-to-go meal program (breakfast and lunchtime):
Breakfast: 9:00 a.m. to 10:00 a.m. Tuesday to Saturday
Lunch: 12 p.m. to 1:00 p.m. Tuesday to Saturday
Laundry and showers (sign-up sheet available during breakfast and lunchtime).
Outreach by appointment or during meal service hours as available.
Contacts:
Outreach services: T 604-669-2447
General Information: T 604-683-3787 Mobile 604-603-9151
Honourarium work: T 604-683-3787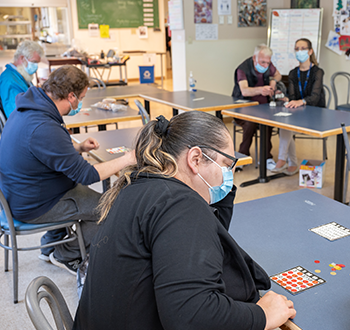 Clubhouse:
As per the guidelines advised by Vancouver Coastal Health, we're allow up to 50 people in the building, but social distancing practices for sessions are in place.
Also, the Clubhouse has returned to indoor dinning, but capacity is limited to 12 people in small groups. Members are asked to eat at separate tables during their meals.
A Meal-To-Go service is also available to Clubhouse members if they would feel more comfortable with a take-out option. The Coffee Service will continue outside weather permitting.
Clubhouse social activities now available. Call ahead to sign up for monthly calendar activities.
Hours of operation and contacts:
Clubhouse: T 604-675-2357
Hours of Operation: Monday to Friday 8:30 a.m. to 3:45 p.m.
What services are available at Coast Mental Health?
We have a number of different service models across Greater Vancouver, so the type of programming available to you at this time depends on where you access supports. We have limited building capacity at each site, but where possible, small in-house group sessions will continue.
Participants will be asked to register for each event to ensure safe distancing measures are maintained. We'll also use virtual platforms to hold peer-to-peer sessions. The Outreach Team will continue to support people through referrals, as well as counselling and supports. Our peer support workers are also staying connected with clients through peer group sessions using virtual platforms and through scheduled small group sessions.
If you're unsure what programming is available to you, please contact the on-site program manager for more information.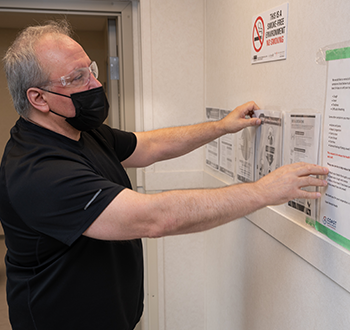 Some sites have relaxed visitor guidelines, but please take precautions, and always follow the site-specific infection control guidelines.
Visitor restrictions were put in place to protect clients with compromised immune systems, but also for the safety of our front-line workers who continue to care for clients during the pandemic. In some locations visitor restrictions remain in place.
Please help us keep our clients and front-line workers safe by following the site-specific guidelines.
We also ask people to consider the health and safety of our tenants and clients before visiting one of our sites. It's important that everyone follows the recommendations provided by the Provincial Health Officer, Dr. Bonnie Henry.
Additionally, we're asking visitors to assist us by completing the on-site screening check list with a member of staff prior to walking through one of our buildings. If symptoms of the virus are identified during this process, we kindly asked you to postpone your visit for 14 days.
Thank you to our supporters! 
We've received incredible kindness and support from the communities we serve throughout 2020/2021 fiscal. Thanks to the much-needed in-kind donations, such as surgical procedure masks, disposable gloves, gowns and face shields, we were able to expedite vital personal protective equipment to our clients and staff.
Our employees continue to pivot to create practical solutions to our new operating environment. This includes virtual mental health therapies to help manage symptoms, and the cognitive and emotional challenges of mental illness. We have also distributed many social distancing support packs for some of our more isolated clients.