Jake's Story – Finding my place, my home
 "I don't know how to describe it." says Jake, a Coast resident. "But it sure gives you a feeling of relief to have a roof over your head – a home." 
For clients like Jake who have experienced homelessness and hardship, a secure home is the starting place for sustained recovery. With your generous support, Coast Mental Health is able to offer clients a home, help and care as they follow their road to recovery. 
At Coast Mental Health, care is built on three pillars: housing, support services, and education/employment services. Housing builds a strong foundation for clients to build on with other services as they recover. For Jake, connecting to Coast helped him find his place in the community after long isolation.
Step by step, he has settled into secure housing and embraced the chance to try new things. 
Alone in the woods
When he first came to Coast, Jake had been living rough as a backpacker in Squamish.
"I had trouble with black bears," he explains. After surviving two frightening close encounters, Jake says, "If I stayed there, I was eventually going to get attacked in a really serious way. And so I came down to Vancouver because I thought I wouldn't have as many problems. The police found me in Stanley Park and they took me to St. Paul's hospital. I stayed for a month and a half."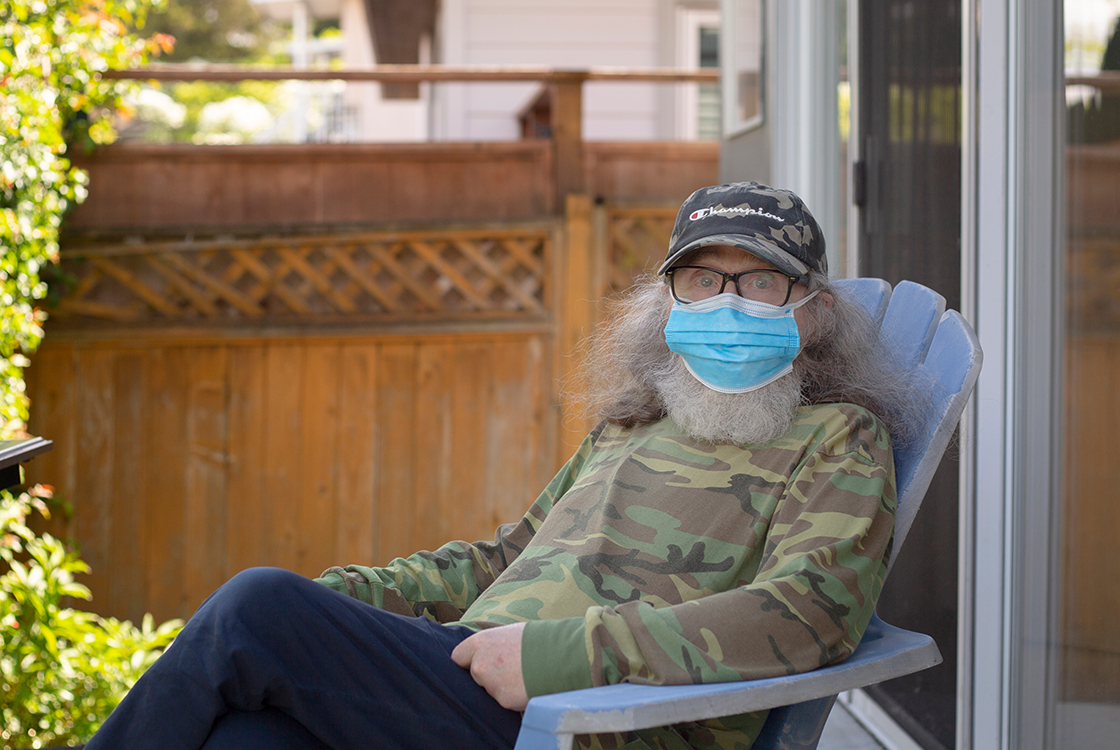 A bridge to community
Coast provides an important link between hospital care, and independent life in the community.  Clients are matched to the kind of housing and support that best suits their changing needs as they make their way on their road to recovery.
Some folks recovering from severe mental illness benefit from round-the-clock staffing at fully licensed community homes, while others thrive in supported housing or supported independent living.
For Jake, robust supports like 24 hour staffing, daily meals, help with medications, volunteer work and leisure activities, allow him to thrive. 
"All the main staff are fantastic people," says Jake. "Like Carolina at Ananda House, she would make birthday cakes. You know, it made you feel like a human being. It made you feel nice. Graham ran a reading group and gave us all kinds of readings and poetry. It almost felt like a kind of university. Very special. That really sticks in my mind. I really got a lot from that."
Jake feels happy these days. "Yes, it's quiet and in a way it's a kind of upgrade.  It's homely here and comfortable."
Caring through the pandemic
During the pandemic, housing has become an important way our staff can check in daily with clients, and support them. Group activities were moved outside where possible, and clients across our locations in the Lower Mainland benefitted from takeaway daily meal programs.
Thanks to donors like you, Coast was also able to distribute personalized isolation care packages to help clients feel at home.
"I got a cardigan," Jake shares. "It got me through doing income taxes outside this year (because of COVID-19). It was just the perfect thing to wear and kept me warm an' all, so I appreciated that. It was real nice to receive." 
Now, as more social programs reopen, clients like Jake are finding ways to grow again. 
"I do Bingo and we have a music night," says Jake, who composes his own rock songs. "We have a cooking group — I don't have very much use in this hand, I can only move it that much because of my arm injury — but Julie gets me to do things I can do with one hand. And there is a garden group. Julie does pot some plants. I think we are just getting started for the year."
With your help, Jake is looking forward to a new year in his community…and his home. 
Read more about the impact of your support in Coast Mental Health Foundation's 2020/2021 Gratitude Report.