Community hubs provide opportunities to give back
"I have a beautiful life today."
Those are the words of Justin, a member of Coast Mental Health's Clubhouse for close to four years. As a member, Justin took part in a number of vocational training opportunities before joining its street cleaning division three years ago. He works for this division three to four shifts each week.
'It's a great job and a real blessing to me," said Justin who, at 39, has been living with schizophrenia for over 20 years. "It's low stress and a way for me to give back and help keep the city clean."
Coast Mental Health celebrates 50 years of service across Greater Vancouver on June 10, 2022. We're guided by our commitment to deliver person-centred mental health services that encourage Hope, Compassion, Courage, Respect, and Collaboration. Celebrate with us by watching our 50th Anniversary video.
When the Clubhouse opened in 1982, it was the first membership-run model in Canada. With member guidance, employment programs to support people living with mental health challenges were set up. Today, these programs support over 20 communities, providing regular employment to over 50 members in fiscal 2021/2022.
"Having a job has given me confidence and increased my self-esteem," said Justin. "It gives me purpose and a reason to get up. The money I earn means I can eat out with friends and go to movies."
Our employment counsellors are there for Justin every step of the way. For the Street Clean Team that can mean walking the route with a member until they are sure they understand the work. At Coast, we recognize the importance of employment as part of a sustained recovery, and we strive to expand these services across the communities we serve. As an organization, we are committed to providing more employment opportunities to people who would otherwise face barriers of entry because of their mental illness.
How does the Transitional Employment Program support people living with mental illness?
Before joining the Transitional Employment Program, Clubhouse members volunteer with one of three units: food service; environmental, and communications and reception.
"These are pre-vocational programs specifically for people challenged with mental illness who want to build up their employment skills," explained Clubhouse Program Manager Simone Frey. "I've seen members gain confidence and move towards more Independence. They are part of a community and are able to give a service rather than receive one. The Clubhouse allows a person to feel needed and to have a purpose."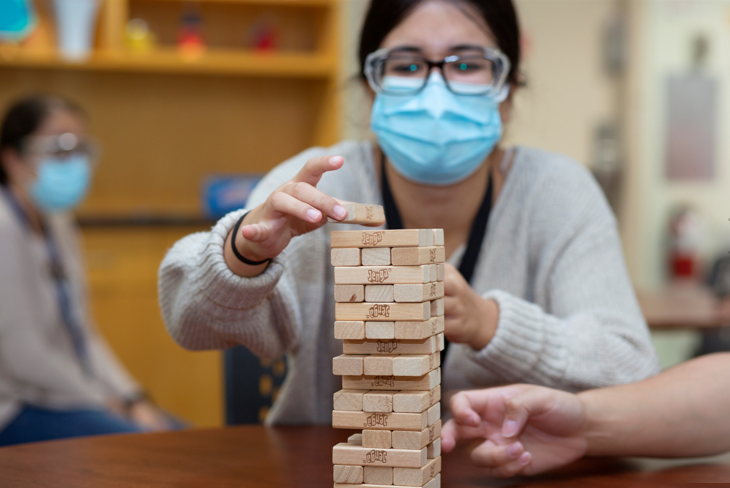 Games like Jenga help challenge the mind are an important part of the Cognitive Remediation Program.
The Clubhouse is always innovating. In 2018, we established a Young Adult Program, as a result of the support received from our generous donors. In 2021, we started working with the YWCA to provide job-seeking skills to Coast clients and the public. More recently, Clubhouse members are able to access a new donor-funded Cognitive Remediation Program that teaches resiliency to support sustained recovery.
Your donations make 'The Difference'
It is because of the continued generosity and support of those who give to the Coast Mental Health Foundation, we are able to continue to develop and pilot ground-breaking services and programs that transform the lives of those living with mental illness.
Donors like The Wolrige Foundation support Coast Mental Health because they are inspired by the many innovative ways we work with people with mental illness and the programs and services we offer.
"We have been donating to Coast since 2013," said Ross Wolrige. "An initial tour of the Resource Centre made us aware of the services Coast offers and we were especially impressed with the peer support program that works with youth and helps them find direction. The staff we meet care deeply about their clients and are invested in making a difference. We appreciate that the organization has a deep history and also that it is continually expanding, innovating, and providing safe and stable environments for its clients. We believe the length of service of many of the staff contributes to the quality of care as well as the clients' safety and security. This is another reason for our continued support."
Coast's community hubs—the Resource Centre and the Clubhouse—provide people with mental illness a sense of belonging.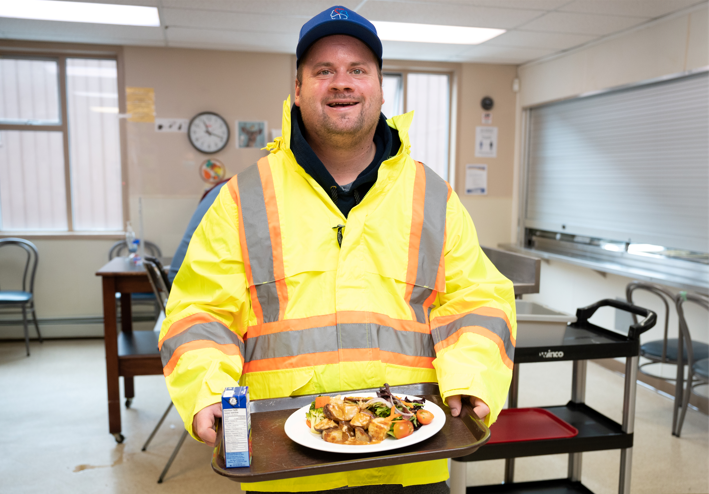 Justin grabs a healthy meal at the Clubhouse during his shift with the Street Clean Team.
"When I'm not working, I'm here for lunch," said Justin. "I have a beautiful life and Coast Mental Health has a big part to do with that."
Coast Mental Health celebrates 50 years of making a difference
On June 10, 2022, Coast Mental Health celebrates its golden anniversary. Through the support of our many partners and allies, Coast continues to be a leader in providing community-based mental health services across Greater Vancouver. Visit our website to learn what we've accomplished and 'The Difference' we can make in your community.