Zoe lands a job through the Culinary 101 Camp
Zoe first heard of Coast Mental Health's Young Adult program while in tertiary care at Vancouver General Hospital. The recreational therapist there recommended the program to her, and she started going while still in the hospital.
"Attending groups and having people to talk to, that's been a good support," she says.
Zoe explains that being able to be open about her mental health with others has been helpful.
Zoe has been attending the Young Adults program since March, and now lives at one of Coast's community homes nearby.
Thanks to the generosity of donors, the Young Adult Program provides opportunities for life skills development, employment and education exploration, recreational activities, socialization and community engagement for young adults. Most importantly, it offers a space for them to be themselves without the stigma and discrimination often associated with mental illness.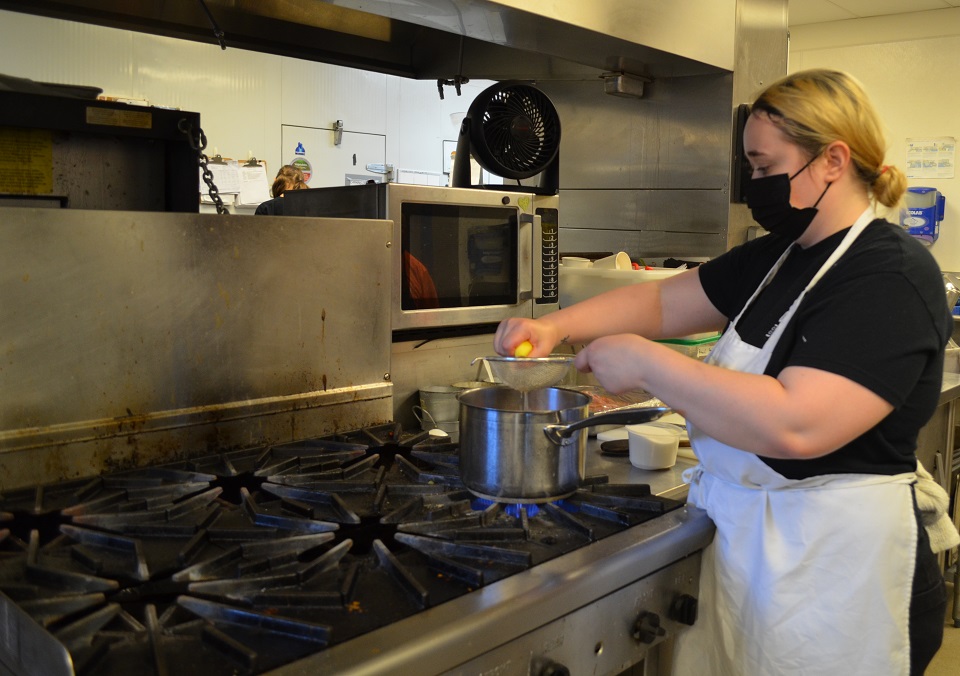 Zoe removes barriers to employment by exploring her interests in the culinary arts at Coast's Culinary 101 Camp.
Finding ways to access training you need
At the Culinary 101 Camp, Zoe learned basic cooking skills and techniques, like knife cuts and plating. Participants made everything from cookies to soups to focaccia during the three-day session, giving her more self-confidence in the kitchen.
The employment skills program is funded by generous supporters and provides youth recovering from mental illness or with other barriers to employment with training, coaching, and work experience to help them enter the labour force or continue further culinary schooling.
As part of the culinary training program at Coast, Zoe was given a one-month work experience contract with the Social Crust Café. Three days in, they decided to hire her on a permanent, part-time basis.
"You learn as you go," she says. "My favorite part about working here is learning new things…, like how to mix properly and combine ingredients for cookies so they come out soft."
Zoe does a mix of different jobs at the Café, from dishwashing to prep work to packaging orders for the catering side of the business. She's learned a lot so far and looks forward to learning more.
"It teaches you time management. For making meals at home, it's a lot easier to get things done. You learn to do it faster."
Zoe looks back on her time in the Culinary 101 Camp fondly.
"It was really fun. We learn a lot in a short period of time. I would definitely recommend it. If you can make the three days' work, why not? Plus," she adds, "you get to keep the stuff you make, so that's a bonus."
Next Culinary 101 Camp begins February 7, 2023.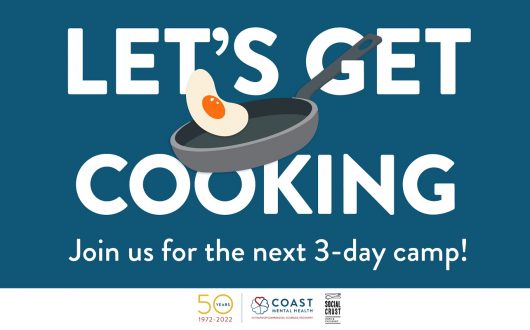 Learn more about the upcoming Culinary 101 Camps on our Employment and Education page. The application link can be found there and submitted via email to Margaret.Flynn@coastmentalhealth.com or dropped off in-person at the Social Crust Café.
If you choose to stop off at the Social Crust Café, Zoe recommends the veggie wraps. "They're really good."