Using Technology to Reach a Wider Audience
Staying Connected
If there is a silver lining to the COVID-19 pandemic, it has been the widespread adoption of virtual platforms to keep people connected. At Coast Mental Health, we have taken this opportunity to widen our audience and broaden our impact.
We have always been a client-centred organization. Our Planning and Partnership Committee is a way for clients to have input into how we operate. The group meets monthly, and membership consists of clients from all sites that wish to participate plus staff representing various departments.
"With the pandemic, we needed to meet via Zoom rather than in person," said Chief Operating Officer Bruce Smith. "We were able to carry on with no down time and meeting virtually enabled a wider audience. Clients easily hopped on a cell phone or a device we provided. Technology makes participation easier and that means wider representation."
"We offer it to very vulnerable populations"
Virtual presentations have also increased the audience for our cognitive remediation program. Originally offered as in-person sessions, the program recently moved to online delivery. It provides brain training exercises for people with cognitive impairment, helping them with memory improvement, attention to detail, strategizing, and problem solving.
"We offer it to very vulnerable populations," said Mental Health and Addictions Counsellor Melanie Nelson. "With the virtual version of the program, we're also providing dialectical behaviour therapy, which is very costly to access as individuals. Many of the people we work with experience cognitive impairment because of the medication they're on or because of substance use. Brain training can't fix what's happened but does work in partnership with some of the medications clients may be taking to see improvement."
Online Doctor's Visits
Senior Manager Veena Reddy has helped clients stay connected throughout the pandemic.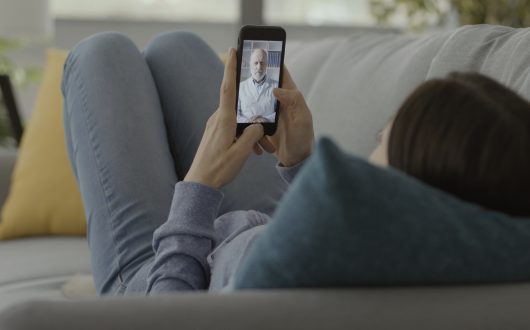 "For the first six months, everything was shut down. But then we started doing virtual meetings with clients' mental health teams," she said. "We talk about their progress in their recovery and what type of supports we can offer. These meetings have been very effective. The clients meet with their mental health teams and are also using the donated tablets to connect with their families. We also had doctors and psychiatrists meeting clients online."
Bruce, Melanie and Veena agree that their virtual sessions with clients have been remarkably successful and expect e-meetings will continue in a post-pandemic world.
"COVID-19 accelerated what we do virtually and opened a few doors," said Bruce. "It demonstrated that things can be done differently and with added benefits."
Yes, In My Backyard
With more funding, the sky's the limit in terms of virtual services Coast Mental Health could offer to both current and potential clients. Help us bridge the digital divide and open a new era for e-mental health that increases the accessibility as well as the efficacy of mental health supports.
Visit our website to learn more about the Yes, In My Backyard campaign. We also encourage you to share our goals with your networks using the hashtags #Yesinmybackyard and #Fundmentalhealth.