Front-line healthcare workers provide a safe space during COVID-19 crisis
Staff worked diligently to re-invent how to safely deliver critical mental health services during the COVID-19 pandemic.
A lot of things look different, more than a year after the start of the pandemic. Virtual meetings and online shopping are just a few of the things that became necessity during COVID-19.
Most changes that emerged are thanks to front-line healthcare workers. These people pivoted and forged onwards in order to provide essential services for the rest of us.
"The increase in overdose deaths, suicide and mental health issues was much more prevalent than Covid cases. So, we had to quickly get past our own fears and step up to fill an important role in the community" says Cathy Taylor, Director of Employment Services.
The management team and front-line workers at Coast Mental Health worked hard to come up with a plan. They led the charge in re-imagining how to safely deliver mental health support services during an unprecedented year.
The important role of keeping our doors open
The CMH Clubhouse is one of the many places that had to quickly develop new safety protocols in order to continue offering essential services. Like most places, in March 2020 the Clubhouse was forced to temporarily close their doors.
Clubhouse staff immediately got to work to figure out how they could deliver the services that are most important to its members. Services like hot takeaway lunches and phone outreach to make sure members were fed and remained connected to their community.
Matt, a Clubhouse member explains: "…Being able to go to the Clubhouse and see staff or fellow members provided a sense of hope…"
CMH employees and Clubhouse members worked together to create new safety protocols that not only aligned with Vancouver Coastal Health and WorkSafeBC, but because we wanted safety measures in place to make everyone feel safe.
Modifying our services to meet the needs of our community
 Just three months after closing its doors, the Clubhouse was ready to start offering modified in-person services again.
"We had to adjust the physical environment to host a limited number of individuals, including smaller table services, fewer computers and designated areas for socializing," says Cathy. "I think that's a transition that members and staff weathered well, and we're all conscientious of the cleaning and safety protocols we need to take."
Over the course of the pandemic we all experienced a degree of isolation and uncertainty. For individuals who rely on support services, isolation can be harmful to both mental wellness and recovery.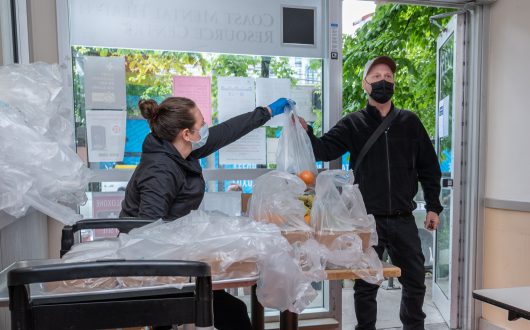 "Members felt the isolation most dramatically," says Simone Frey, program manager for the Clubhouse. "We wanted to ensure we kept a safe space for people to come and not be alone."
Being isolated without connection or support isn't conducive to someone's mental health or recovery. That's why phone conversations with staff or picking up lunch from the Clubhouse was such a necessary service in the pandemic.
Thanks to our front-line workers
Now adept in sanitation protocols and health checks, the staff at Coast can look back and be proud that they were able to thrive in such a challenging time. Improving their internal communication, adapting services and implementing new safety protocols are some things that have helped front-line workers successfully navigate the pandemic. As things begin to return to normal, Coast staff continues to consult with members to provide the best possible services in a safe and accessible way.
Learn more about our front-line worker by reading our recently published 2020/2021 Annual Report(s).