Terra's story: Finding community
Whether it's the smell of fresh cut flowers on a summer's day or banana bread baking on a cold winter's day, scent can bring a smile to our face and warm our hearts.
Luckily for the tenants at Coast Mental Health's Alouette Heights residence in Maple Ridge, they get to enjoy the aroma of fresh baked banana bread at least twice a week, thanks to Terra.
Terra's been living at this Coast residence for nearly ten years and has been baking her famous banana bread for almost as long.
After her children were put in foster care, Terra realized she needed to leave her marriage and make a change. Unfortunately, she wasn't able to find secure and stable housing and ultimately ended up homeless. With the help of the Salvation Army, she was able to find secure and safe and housing at Alouette.
"The marriage ended and that was a difficult thing. A number of things led to me being homeless. It was hard. But a lot of the people around, at the Salvation Army and here at Coast, they make it better. It's like a family here. One big family."
Giving Back
Although a hairdresser by trade, Terra's been working in kitchens for as long as she can remember; so responding to an ad looking for a tenant to help with breakfast and lunches seemed like a natural fit for her.
According to Martin, community homes manager, Terra is also the perfect fit for Alouette, noting that "Terra's personality brings peace and calm."
For Terra, giving back is just what you do. In additional to the work at Alouette, she also volunteers in the kitchen at the Salvation Army, saying "I figured they helped me out, I should give back a little."
You will find Terra in the kitchen at Alouette five days a week, prepping the bagged breakfasts for the next day, making the day's lunches and baking.
"A couple of times a week I also bake banana bread at this time," says Terra. "The banana bread was something I started to make to add to the prepared meals as a nice little treat. Also, it keeps me busy and I always loved cooking. Everybody's always commenting how much they love the banana bread. It feels good; its nice to hear that," adds Terra.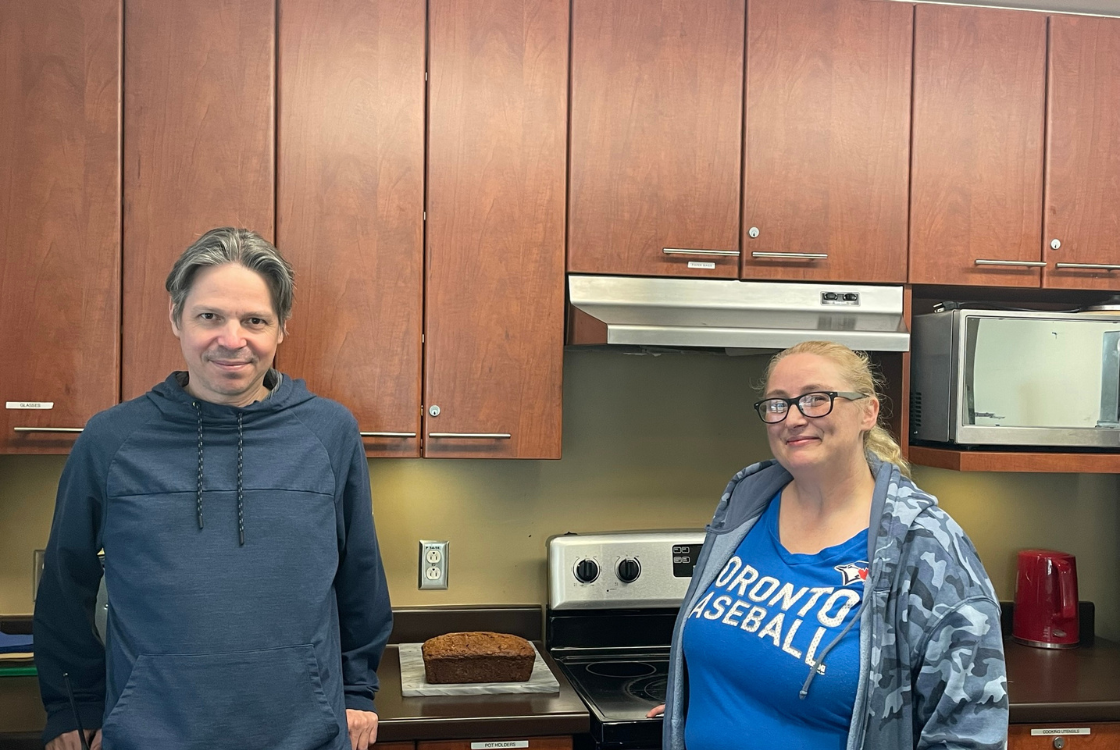 Martin, community homes manager (left) and Terra (right)
Its more than just a meal
Having access to healthy meals is vital for everyone, especially people living with mental illness. Many medications need to be taken at the same time of day and with food. Being food insecure makes it difficult to achieve this. And with the rising cost of essentials, many tenants are finding it hard to make ends meet.
"I've noticed in the last couple of months especially, we're getting more people coming down for lunch. The number of folks coming down for lunch has more than doubled," says Terra.
Thanks to the generosity of Coast Mental Health Foundation's supporters, residents at Alouette can enjoy a bagged breakfast and soup and sandwiches for lunch, five days a week. This provides the essential foundation for residents' recovery. It also provide an important opportunity for staff and residents to connect and build relationships.
"It's nice. The tenants come in and sit down and eat here. Before they'd just pick it up and go to their room, but now, there's more who will sit down and eat, have a conversation. There's always interesting conversation going on!" comments Terra.

Martin adds, "Especially at lunch… we have people sitting here in the dining area, and it's a chance to engage, a chance for community."
The meals also provide an important opportunity for staff to connect with residents and for residents to build relationships with one another.
A place to call home
For people like Terra, recovery is possible with a place to call to home, nutritious meals and opportunities to be part of a community. And, thanks to our incredible community of supporters, folks in British Columbia who live with mental illness and mental use disorders are provided an opportunity to recovery and thrive.
"Being at Alouette is a godsend to me. If not for Coast, I'd probably still be on the street. Knowing that I have somewhere, a roof over my head and not have to worry about anybody else except for myself. It's nice," says Terra.