Speaking out for mental health through lived experiences
As we recognize World Mental Health Day (Oct 10), we look to our clients to share their stories of stigma and struggle. Your support of Coast Mental Health (CMH) is making a difference in the lives of some of the most vulnerable people in our community, your kindness is making recovery possible. 
*Lauren's father passed away when she was six, before his divorce from Lauren's mother was to be finalized. After a life with mental illness and a struggle to accept himself as gay, his pain felt unbearable. Lauren was traumatized by her father's death and now struggling with her own mental health, she began to contemplate suicidal thoughts.
Struggle with the system
Lauren knew she needed help and reached out to a family friend. However, it wasn't enough. Lauren sought that help at a hospital six times in one week but like many others in her situation, was turned away. Exhausted by the system, she chose to drop out of college. Upon moving to British Columbia, Lauren was finally able to find a mental health team that listened to her and brought hope back to her life. With a mental health diagnosis, Lauren found the resources she needed to keep her safe.
Finding a safe place
Lauren experienced the frustrations of aging out of programs, or organizations not offering the kind of programming she needed, until she found the CMH Young Adult Program. This community of young people, run by program coordinator, Jolene Hammermeister, gathers at the Young Adult Program at the CMH Clubhouse, where she spends most of her week. "It gives me hope to be around others with similar struggles that are doing well. It's a safe group where we support each other, do things together and tell our stories to help others."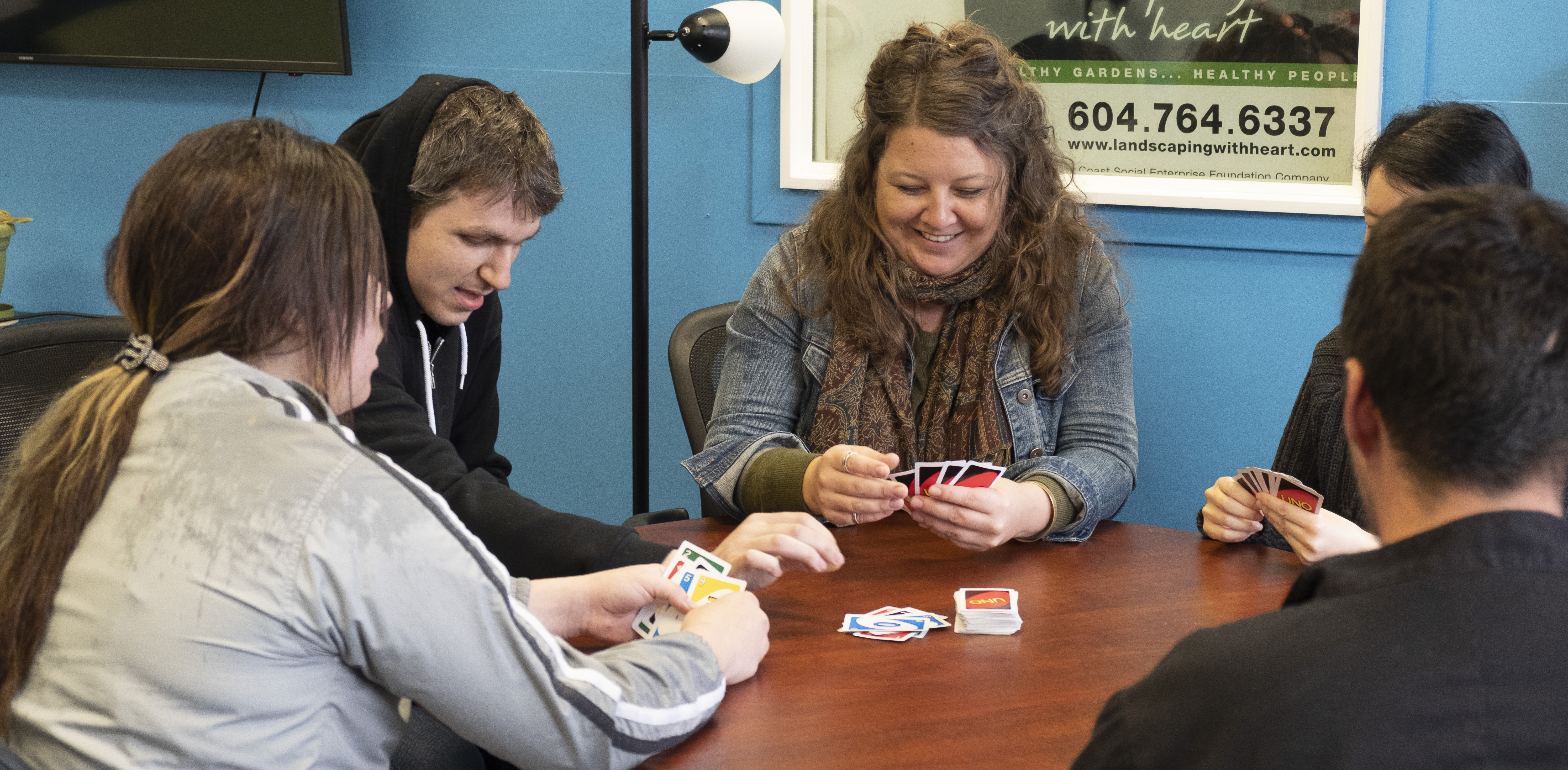 Jolene, program coordinator of the Young Adults Program at Coast Mental Health catches up with members during a game of cards.
Breaking the stigma
For Lauren, sharing stories about  difficulties in the system brings attention to the stigma around suicide, which she believes is a big reason people don't get help. "I'll be dealing with suicidal thoughts for the rest of my life," Lauren confesses, "but Jolene helps a lot, and building community here at the Young Adult Program gets me out of bed."
Even though she feels like she's stuck in a cycle of anxiety and suicidal thoughts, Lauren keeps coming back to the Young Adult Program for support, activities, and the ability to advocate through a group called Rabble Rousers. "Stigma stops people from getting better. Society needs to understand that we can live with suicidal thoughts, we just need a little more help."
Join our Rabble Rousers program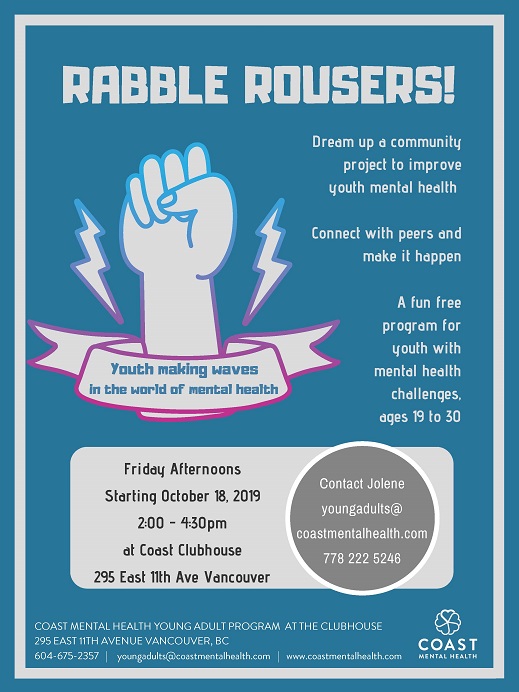 Rabble Rousers is a program for young adults between the ages 19 – 30, who experience barriers related to mental health. It is based on the idea that advocacy is a crucial part of healing our communities and ourselves. The 2019/2020 season starts Friday, October 18th. Join us to dream up and organize our next community project to support young people with mental illness.
Both the Rabble Rousers program and the CMH Young Adult Program are possible thanks to the tremendous generosity and kindness of people like you. To support these and other lifesaving programs of Coast Mental Health, please visit www.coastmentalhealth.com/get-involved/donation/, or reach out to the Coast Mental Health Foundation at 604-675-2317 to learn more.
*Names have been changed to protect the individual's privacy.