Rabble Rousers at Vancouver Mural Festival
Mural by youth, for the community.
Every year, the Rabble Rousers – a group of young adults ranging between 19 and 32 based out of Coast Mental Health's Clubhouse – engages in a community initiative. The aim is to increase awareness about stigma, the challenges of young people and their journeys through mental health recovery.
This year, working with community volunteer Ariel Buxton, the Rabble Rousers will be creating a mural as part of the Vancouver Mural Festival, located on East 11th and Kingsway.
Projects like this, that encourage connection and collaboration can make a positive difference to someone struggling with their mental health. These young people are in a stage of their recovery where they are ready to express themselves and show the world a glimpse into their experience.
"I get to leave my impression that symbolizes me and my mental health" says one participant. "It's a great opportunity to express yourself, share how you feel with others" said another, when asked what it meant to them to be part of such a project.
Courage
The mural itself comprises of the word 'Courage' surrounded by symbols, each carefully chosen by the youth to symbolize something personal. "Courage is a word that makes you feel stronger when you are feeling weak." said one member.
The choice of word is fitting for Coast Mental Health, which hosts the annual Courage To Come Back Awards, celebrating five individuals who have overcome adversity to give back in their community.
"Courage encompasses so much of the journey of recovery. Strength, bravery, fear" adds another young adult.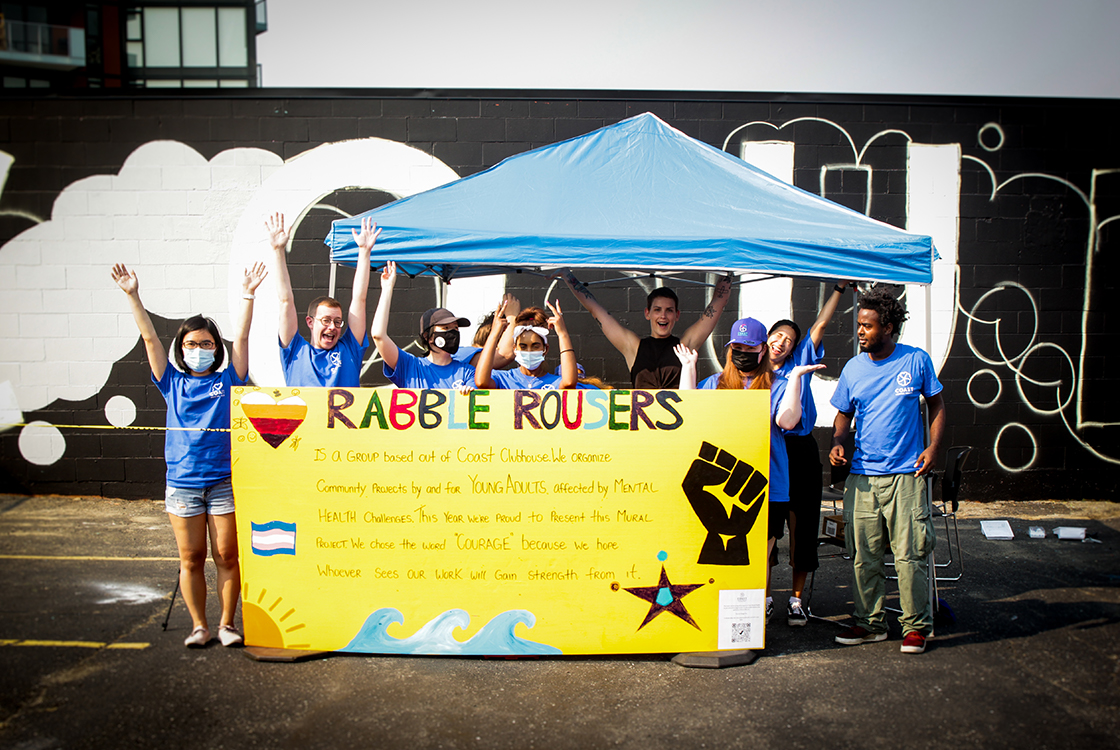 The strength of symbolism.
Each and every symbol within the mural has a personal meaning to the youth, and has been carefully chosen.
Butterfly – transformation and beauty
Cactus – thrive in an unpleasant environment – a desert isn't really an ideal growing place but cactus grow there anyway. It's brave of them to be in a desert. It shows their resilience. Even in unbearable conditions, they continue to survive. 
Four leaf clover – one in a million to find. A lucky symbol. One of a kind – like each person's experience with mental health.
Pine Tree – a symbol of the pacific northwest, where we live. There are so many pine trees, they are so numerous, so common. Mental health is common in all of our lives. They represent beauty. The pine tree is strong – like the strength needed to endure the journey of recovery.
Palm Tree – representative of the ocean – the waves, the tides. Humanity is like the ocean. Each person is a wave and every one you meet, a little bit of them splashes to you and a little bit of you splashes to them. We are all in the same ocean. We are all in this together.
 Feather – represents a phoenix. Rising above all adversity and challenges no matter what.
Flower – growth: like from seed to beautiful flower, needs care and attention. Needs protection.
Acorn – the acorn comes from oak trees, which are the most central tree in druidism. Oaks can grow very tall and old do they are a symbol of wisdom and strength. And one little acorn holds the potential for a mighty oak tree. They are also symbols of good luck.
Star – symbolizes light. We are all stars!
Part of the community
As BC's largest provider of community-based mental health care, our programs are deeply integrated and intertwined within their local communities. The Rabble Rouser's mural is a fitting, and lasting, representation of these partnerships.
The Mount Pleasant Business Improvement Association is one such partner.  
"Coast Mental Health has been a key community partner for us for decades. Coast's Street Clean team keeps our streets clean, welcoming and safe for residents, businesses and visitors alike. As a BIA, our aim is to support a diverse community that embraces individuality, creativity and entrepreneurship and we know that this mural will add value to our neighborhood. We're thrilled to be part of such an impactful project." [SK1] says Executive Director Neil Wyles
A lasting legacy
The Rabble Rouser's mural will leave a lasting legacy for the community: "Public art in general makes people stop and look and think about it for themselves. If more people do that, they may begin to understand our stories" said one young member.
The youth hope that raising awareness can help people in their own journey and their own mental health, as well as changing the public perception of what it means to live with mental illness. 
Some people may perceive those in the mental health community as being incapable, and for this reason less worthy. Many are surprised to learn that people who struggle with their mental health have jobs or are pursuing an education, just like everyone else in society.
And the youth hope the mural will show people "that young people are valuable, useful and awesome!"
Many of the programs at Coast Mental Health, including the young adult's program, Rabble Rousers and this mural, are only possible thanks to the generosity of donors and community supporters and volunteers. Thank you to our donors, the Mt Pleasant BIA, the Vancouver Mural Festival, and of course, the wonderful Ariel Buxton. The Westminster Foundation  is a key funder of the Rabble Rousers group, and recently committed to funding for five years, ensuring this crucial program can continue to run.
The Rabble Rousers' Courage Mural is located at 11th and Kingsway. It is currently being painted as part of the Vancouver Mural Festival  and is due to be complete on 20th August.