Partnerships make 'The Difference'
Over our 50-year history, Coast Mental Health has developed deep and trusting partnerships that have been key to our success. We work with all levels of government as well as with academia, other housing providers, community groups and individuals passionate about building mental health services.
"We are a non-profit organization and without partners we would not be able to fulfill our mission," said CEO Darrell Burnham. "For example, we have vital funding relationships with BC Housing and Vancouver Coastal Health. We work with both organizations to provide homes and support services that are designed specifically for people with mental illness."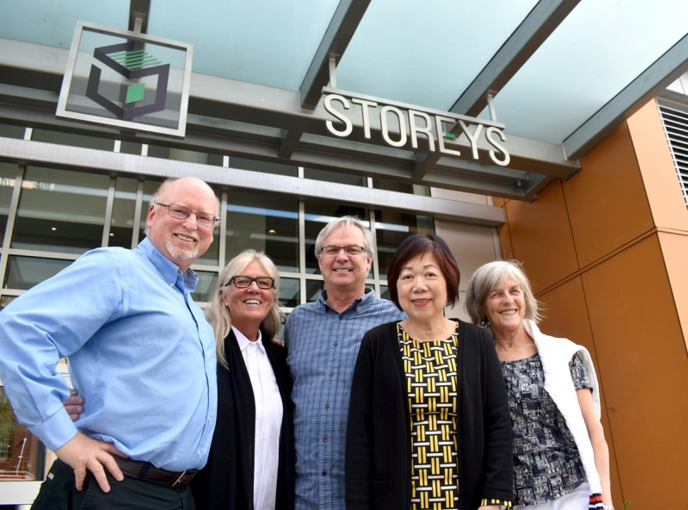 In 2016 Storeys' Apartments, Richmond opens. This award winning affordable housing project (129 homes) was made possible by investments made by all three levels of government, and a consortium of five non-profits: Coast Mental Health, Turning Point Recovery Society, Pathways Clubhouse, S.U.C.C.E.S.S. and Tikva Housing Society.
In 50 years, Coast Mental Health has gained an in-depth understanding of community-based mental health issues, allowing us to work with many stakeholders to shape B.C. policy in community-based mental health. With assistance from the 5000+ voices that represent clients, members and tenants we serve today, we endeavour to amplify the voices of our community to encourage policy changes and further investments in community-based mental health supports.
Coast Mental Health, a non-profit and independent charity, works closely with Vancouver Coastal Health. (VCH is a provincial health authority and is sometimes confused with Coast Mental Health) Caitlin Johnson is the manager of VCH's Mental Health and Substance Use Supported Housing.
"Coast Mental Health is integral to many aspects of our work," said Caitlin. "Our clients have challenges gaining and retaining housing; they need services that go beyond what our mental health support workers can offer in order to stay housed. I have the highest regard for Coast's programs; I view them as a wrap-around organization for mental health."
The partnership between the two goes much deeper than simply a funding relationship. Caitlin's staff have regular discussions with ours and both groups problem solve issues that come up.
"We rely heavily on Coast's teams and leadership," Caitlin added. "They are always looking to the future and adjusting their programs to serve emerging needs such as aging in place. Not every agency does this."
Working together makes us all stronger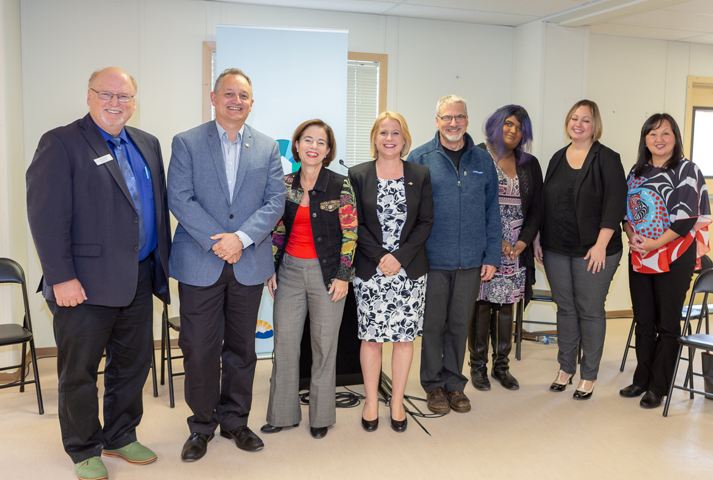 2018 temporary modular housing opening in Maple Ridge with provincial dignitaries and community groups
Dominic Flanagan agrees. As the former manager of mental health and addictions with VCH as well as, more recently, the executive director of strategic initiatives at BC Housing, he has partnered with Coast Mental Health for over 20 years.
"Over that time, Coast has always been innovative and willing to work collaboratively," he said. "When partnerships work well, they can inform government policy and direction. They can point out what's missing and build credibility in the community."
While the provincial government is responsible for housing and health initiatives, municipalities also have a role to play, often as advocates for their communities.
Phil graduated from the Rehabilitation and Recovery Program operated by Coast Mental Health. Both Christine, a social worker, and Phil, now partner on a peer-to-peer workshop on səmiq̓wəʔelə to help people living with schizophrenia.
"As a local government leader, I see the need for housing and programs for people with mental illnesses on a daily basis," said City of Coquitlam Mayor Richard Stewart. "The former Riverview Hospital site, now known as səmiq̓wəʔelə, is within our city, and Coquitlam doesn't have a NIMBY attitude towards mental health services. The City wants to see the site used more this way and that's our key connection with Coast. I feel comfort knowing there are organizations like Coast who care so much and are there to help people who are often ignored."
"We operate several programs for clients with complex needs at səmiq̓wəʔelə and Coquitlam is an important community to us," said Darrell. "We share an advocacy mandate. I know we couldn't operate the programs we run there anywhere else."
Coast Mental Health is committed to providing daily mental health supports to communities in need.  Our vision for the next 10+ years focuses on three pillars of support: Housing, Support Services and Employment and Education.  Learn more about our partnership goals by visiting Our Vision page.  
See 'The Difference' we make in your community
On June 10, 2022, Coast Mental Health celebrates 50 years of services across Greater Vancouver. In honour of our golden anniversary, we want to take this opportunity to thank our many partners and allies for their ongoing support in helping us build healthy and strong communities.  
Learn more about our history and accomplishment by visiting our site.