One size doesn't fit all: Providing homes where the needs are
Fifty years ago, Coast Mental Health (Coast) was a fledging non-profit organization supporting former psychiatric facility patients who had been moved into boarding homes. Along came Jackie Hooper, who had herself been hospitalized, with the drive and vision to transform the society.
'The Difference' one housing project can make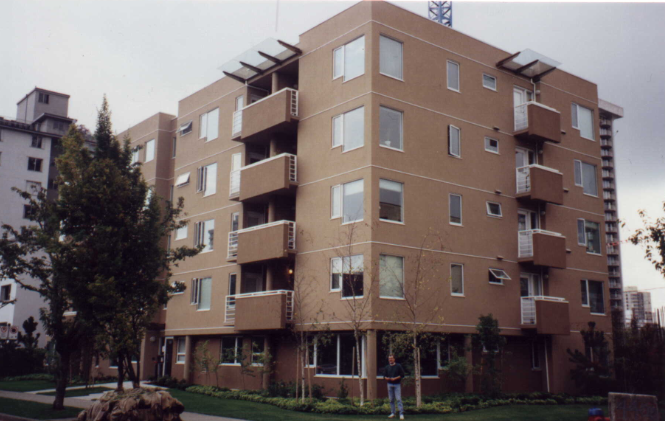 First supportive housing building established in Canada. In 1997, Hooper Apartments was renovated and today provides supportive housing to 30 people living with mental health challenges.
In the 1970s, Jackie Hooper was instrumental in Coast Mental Health's purchase of a 24-unit building in Vancouver's West End that became the first supportive housing apartment in Canada for people with mental illness. The original Hooper Apartment building was replaced in 1997, as it needed extensive repairs and renovations. Forty-eight years later, Hooper Apartments has been home to a countless number of people in need. On May 8, 2014, Jackie Hooper was honoured with a Courage To Come Back Award in recognition of the obstacles she overcame in her life as well as giving back to her community. Today, Coast's housing portfolio offers a continuum of housing, (1444 homes) many with wraparound supports, across Greater Vancouver.
"I got the idea of starting up an apartment block where other ex-mental patients could share, live in the same situation, and possibly have a lounge where they could have meals," said Jackie. "I wanted it to be in the West End because people who were ex-patients might need ambulances and police cars sometimes. We wanted a neighbourhood where that wouldn't be out of place."
Coast's first housing project, established in 1974, was a revolutionary, if humble, beginning. Today, we have 52 facilities throughout Metro Vancouver: 1,444 homes across a continuum that includes fully licensed community homes, supported housing and supported independent living, and our forensics cottages (Transitional Cottages Program) and the Recovery and Rehabilitation programs at səmiq̓wəʔelə, formally known as Riverview Lands.  
What has remained constant during this growth is that clients and their needs have always been our focus.
"Everyone is an individual and we all have different needs," said Director of Housing Services Renay Bajkay. "Some clients need more support in moving through the housing continuum. Coast has been a leader in this regard. As opportunities arise, we have moved forward. When there were needs within the forensic system, we created the Cottages. The latest example is low-barrier housing. We weren't doing this 15 years ago, but that is where the need is today. We add to our housing continuum by assessing where the needs are."
A continuum of housing designed for different needs
Coast Mental Health has a fifty-year history of advocating for the mental health community, even before mental illness was recognized by the healthcare system. Then and now, we continue to be instrumental in developing community-based mental health services in British Columbia.  Watch our video to learn about 'The Difference' we're making in your community.
Coast Mental Health's housing models are customized for different client groups. Tenants might be young adults, seniors, or any age in between. The services at each site vary depending on the level of support tenants need.
David lives at Journey's Apartments, a 10-bedroom community home for young adults in East Vancouver. Staff are available 24/7 and use a psychosocial rehabilitation model for supports. Tenants have a voice in the programs offered. For David, that means taking part in walking groups and brain training. Staff also help with medications, building life skills, and offering cooking lessons, mindfulness training, and other services.
 "I came here from the hospital. Journey's is a great place for people with mental illness; it's like a rehabilitation centre," said the 27-year-old who has schizophrenia. "I've made lots of close friends here. This place has really helped me out."
Close by at Coastview Apartments lives 66-year-old Delores. She moved into her home at the 32-unit supportive housing site about seven years ago, coming here from low-barrier housing. She has been bipolar since she was a teen, but her illness went undiagnosed until 2006. Coastview supports include most meals, laundry, light housekeeping, and a medication program.
"My home means safety, security, affordability," she said. "Without this opportunity I would probably have been hospitalized and would be more medicated than I am. Living here has improved my quality of life and I'm getting ready to live more independently. I don't feel so isolated, and I know there's someone looking out for me."
Ingrid has been a tenant at Nair Place in Langley for 20 years, with Coast Mental Health managing the community home in partnership with Fraser Health since 2018. Residents have complex mental health issues and need 24/7 supports.  Prior to joining Coast, Ingrid was engaged in street drug culture.
"Without the support from Coast, I would still be prostituting and doing drugs," said 50-year-old Ingrid, who also has schizophrenia.
Through Coast's services Ingrid has a home and a supportive community.
"I've got lots of friends here," said Ingrid. "I help with chores around the house and I'm now volunteering. That's given me self-worth."
"We've been able to accomplish so much in our first 50 years by listening to what our clients tell us they need," added Renay. "That's what makes us nimble and innovative. That will stand us in good stead as we continue to add to our housing continuum in the years to come."
Celebrating 50 years (1972-2022)
Coast Mental Health's 50th Anniversary is a tribute to our beginnings as a non-profit and independent charity, to the people we serve, but also to the many lives we're able to improve through psychosocial rehabilitation and trauma-informed approaches in client care.
Visit our site  to learn about Coast Mental Health's 50 years of community service and how we can make a difference in your neighbourhood.