Matt's Story: A Place to Be Yourself at the Coast Clubhouse
"On Thanksgiving," Matt remembers, "my mom said one thing she's thankful for is Coast's Clubhouse. I said, "Me too."
For many clients, walking in the door of Coast Mental Health's Clubhouse in Vancouver is how they first connect with mental health services. "I found out about Coast's Clubhouse through my case worker." remembers Matt. "Right away, I loved it." Located in Vancouver's Mount Pleasant neighbourhood, the Clubhouse offers hot meals, laundry facilities, social opportunities and, crucially, a chance to talk to an outreach worker.
That's the first step in connecting vulnerable people to Coast's housing, support services, education and employment programming. Matt's positive attitude and openness to trying new things led him to take all kinds of classes at the Clubhouse, and discover new strengths.
The dignity of a job
He started working at the Clubhouse too.
"I started in janitorial work," he explains, "so I worked 2 to 3 days a week cleaning the Coast Clubhouse and cleaning the office side as well. I really enjoyed it. And then they asked me if I wanted to do street cleaning, so I did both at the same time — the janitorial work and the street cleaning! That was harder, because I had to go during the day to Coast Clubhouse and wait 3 or 4 hours for my next shift — but it was good too because I got to know everybody in Coast Clubhouse."
Coast's employment programming helps young people like Matt build work experience at the Clubhouse, and then apply to work in the community through the supportive Transitional Employment Program. Step by step, these programs reduce barriers to employment while helping clients build new skills.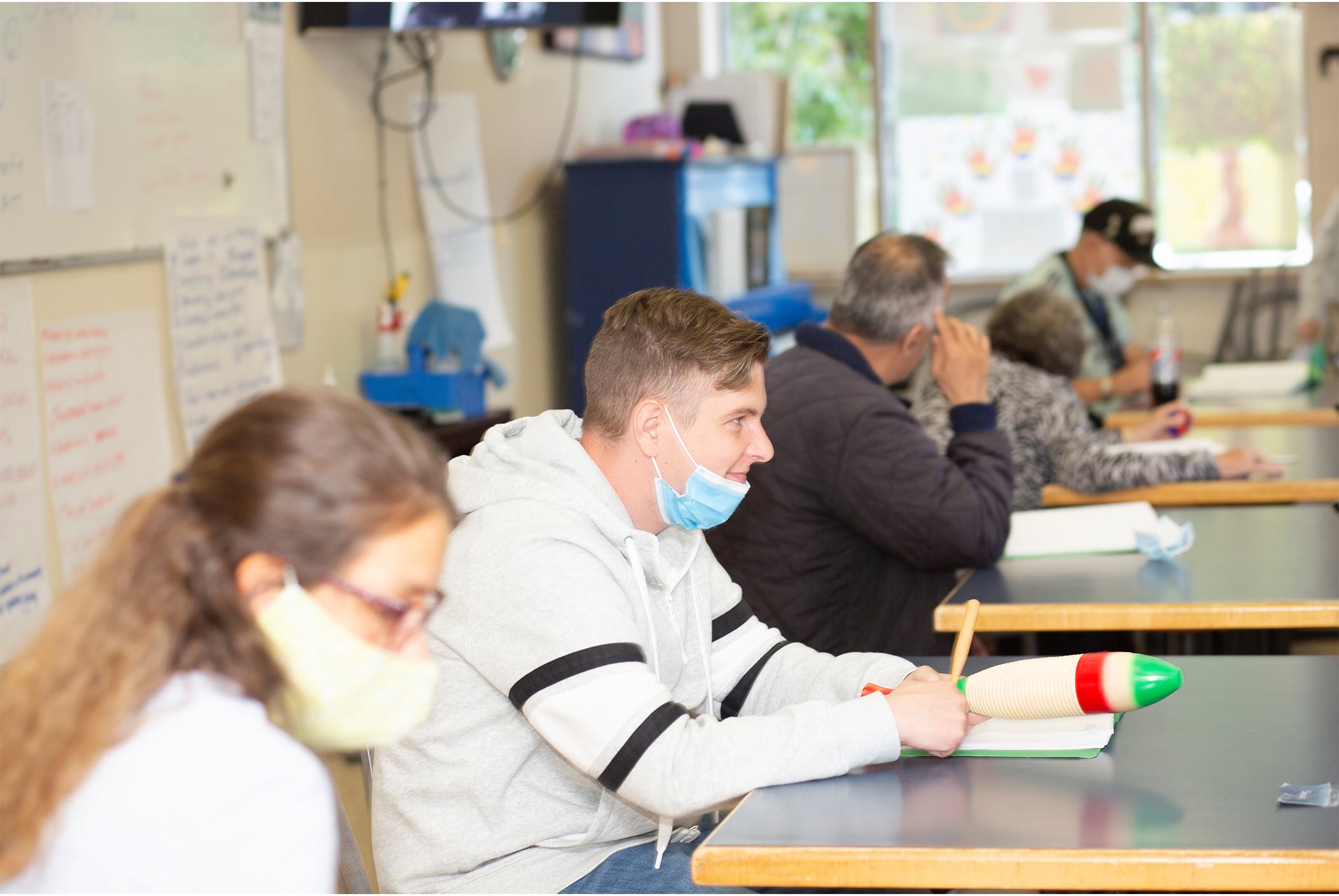 An employer that understands
Today, Matt helps make his neighbourhood a better place to be as part of Coast On-Site Solutions, a street cleaning team trusted by over 20 local individuals and businesses. He's able to do this work confidently now, without fearing he'll lose his job.
"I came into this street cleaning after not working for two years, because the last people I worked with — I couldn't fully explain to them that I had a mental illness or that something was wrong — it was like they didn't accept it. And it was really scary. One beneficial thing that I learned is that here, you can always talk to your staff member or talk to your boss about what's going on, which really makes it a huge weight off my shoulders. It makes everything easier."
More than just a job
And all that time at the Clubhouse in between work shifts gave him a chance to try new programs. "I did Zumba, TED talks, and info sessions where we talk about the news. I even took a career literacy course there – it was a good achievement to take and put on my resume." So when Coast started a new educational program called Healthy Living aimed at reducing the risk of diabetes, Matt gave it a try too. The class ended up motivating him to quit smoking.
"At first I sat in there and because I was smoking, I didn't really agree with everything, I was kind of fighting it. But after two or three sessions, this stuff really set in. It got me thinking "Jeez, I should really quit smoking because I just learned all this new stuff about good health. And the group always got me in a positive mood. You know that it's all about health, so it puts you in the right thinking for the day, or even the week! It's definitely beneficial to your health."
A community
Today, Matt's feeling confident in his ability to build a bright future for himself with the support of the Clubhouse community. "It's safe, it's positive, there's no judgement, which is really big for me – I feel like I can go there and I can be myself.
You can be yourself, you know you're in a safe place and you know that they have the best intentions for you. I'm learning a whole bunch of new skills, and there's a way to grow from it, and maybe move on to other employment."
Many of the programs Matt was able to access are only possible thanks to the incredible generosity of donors. Thank you for your support. It changes lives.