AJ's Story – Let's get cooking
A brand new culinary training program is giving at-risk youth the skills, experience and confidence to transition back to the mainstream workforce.
Originally printed in Vancouver Foundation Magazine, Fall 2014
Story by Robin Schroffel, Photos by Claudette Carracedo
A new cafe has popped up in downtown Vancouver, serving up hot entrees, sandwiches, soups and salads to a busy lunch crowd. While ordinarily, this wouldn't be news, Café 335 is different: the affordable social enterprise eatery is staffed by graduates of the Culinary Skills Training Program, a collaboration between Coast Mental Health and Vancouver Community College (VCC). And the café, located at 335 West Pender Street in a retail storefront at Pacific Coast Apartments, stands as a tangible mark of the program's success.
The Culinary Skills Training Program, which began its inaugural run June 9, teaches cooking skills to young adults aged 19 – 30, who are struggling with various barriers to employment, including mental health issues and addictions. Taught by a VCC instructor, it covers the first third of a 12-month VCC diploma program, includ­ing theory and kitchen time, and the skills are directly transferable to the job site for positions such as line cooks.
We were looking at the people that really needed the support, who really needed a chance," explains Tracy Schonfeld, director of community services with Coast Mental Health, who worked for nearly three years to get the program off the ground. Funding to the tune of $I00,000 from Vancouver Foundation allowed Jason Payne, youth program co-ordinator, to be hired on early in 2014 and the ball is rolling in a matter of months.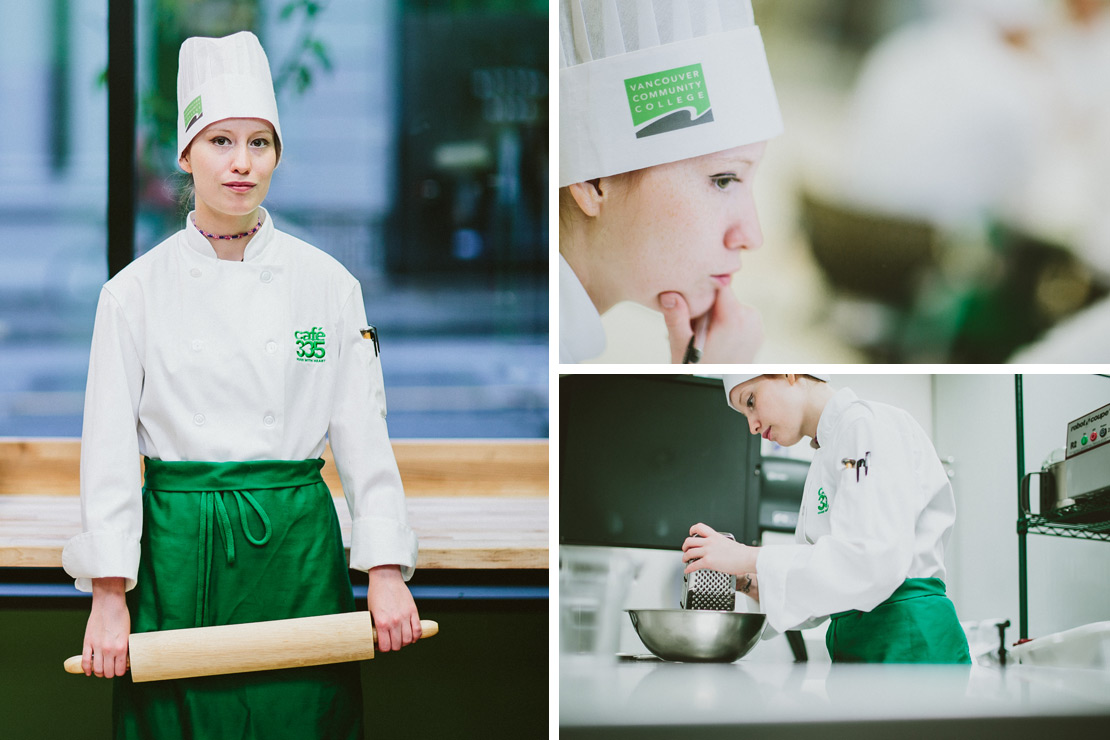 Culinary Skills Training Program participant AJ Willan is learning the technical skills and building up her confidence to launch her culinary career.
The program initially received 34 applications, far surpassing Payne and Schonfeld's expectations. "It was very obvious as we scanned to recruit applicants that there's a real need for this age group to find something meaningful, but not being able LO really plug into anything because they've been out of it for so long," Schonfeld says. "These are folks in their mid-20s who have been struggling with mental illness, who have probably done quite a bit of work in their early 20s, with not much to recommend them on a resume because they've been doing their own work getting better and getting healthy.
"Some of them weren't able to finish high school because their ill­ness would have starred in their late teens. They don't have strong relationships with their peers because of their illness – they kind of get marginalized. Oftentimes they don't have strong family connections or they've dropped out a little bit because they've had addictions issues, or their mental illness had cycled before it got stable. There's fear, shame, all the things that go along with being disconnected from normal community."
Since we've been working together, we've all become good friends. It's like a little family now"… "It's built a lot more of a routine. It's really been beneficial to me, to get motivated. I want to wake up and come here every day."
After conducting one-to-one interviews, Payne and Schonfeld put together a group of 14 that they felt would benefit the most. Classes run five days a week, five hours a day, for five months. A few months in, they were left with a core group of 11, a figure that amazes Schonfeld. "We really did pick people who were quite vul­nerable. I was going to be happy to have six left, if that, because we're asking so much of them," she says.
One of these participants is AJ Willan. As she steps out of class to chat for a few minutes – it's theory this week – her enthusiasm is infectious. The program has been a life-changing experience for the articulate 24-year-old, who was. previously a peer support worker and struggles with social anxiety and depression. "I feel like I've learned so much. It's helped me to push myself and really do some­thing that l love," she says, smiling. "It's actually helped with my social anxiety quite a bit because l have people here who really value me as a person and the skills that I bring to the table."