Kevin's Story: Learning To Be Social Again
"Without Alouette Heights, I would still be homeless. I would probably be going in [and out of] shelters and wouldn't be able to deal with my schizophrenia and delusions," says Kevin, a resident at Coast's Alouette Heights apartments in Maple Ridge.
Kevin was diagnosed with schizophrenia about three and half years ago. Until he could find a secure home at Coast, he was precariously housed and had been in and out of hospital. Kevin credits stable and secure housing and the programs and services offered at Coast with helping him manage his mental illness.
"Coast has given me a place to live. Just keeping a roof over my head is perfect. They helped me cope with situations and…made me more social again. Because before, when I was having my schizophrenia, I wasn't really willing to talk to anybody, I was avoiding people, besides family. But even with family, I was like, a bit reluctant to interact with them."
The importance of wrap-around services
Owned by BC Housing and operated by Coast Mental Health, Alouette Heights offers 46 homes and wrap-around supports to folks at risk of homelessness, who need additional support, and have origins in the surrounding community.
"Housing and stability have helped me deal with my anger, my anxiety, and my social life," says Kevin.
Supports, like being staffed 24/7 with community mental health workers, outreach workers, nursing staff five days a week, healthy meals, and employment and education programs genuinely help bridge the services between hospital and the community.
Having access to nutritious meals is a lifesaver for folks like Kevin. According to Coast Program Manager Cynthia Leighton, without the focus on health, a lot of food that people have access to is high in sugar, carbs and empty calories which can often exacerbate other health issues.
"If there weren't food programs, I would be broke a lot quicker, like every couple of weeks. And the food is much healthier than I would get otherwise," says Kevin.
Thanks to our generous supporters and a collaboration with the Salvation Army, we're able to provide tenants at Alouette Heights a hot lunch every day. In addition, it is only because of our supporters that we can offer a nutritious breakfast program here and at many of our other housing sites across the Lower Mainland.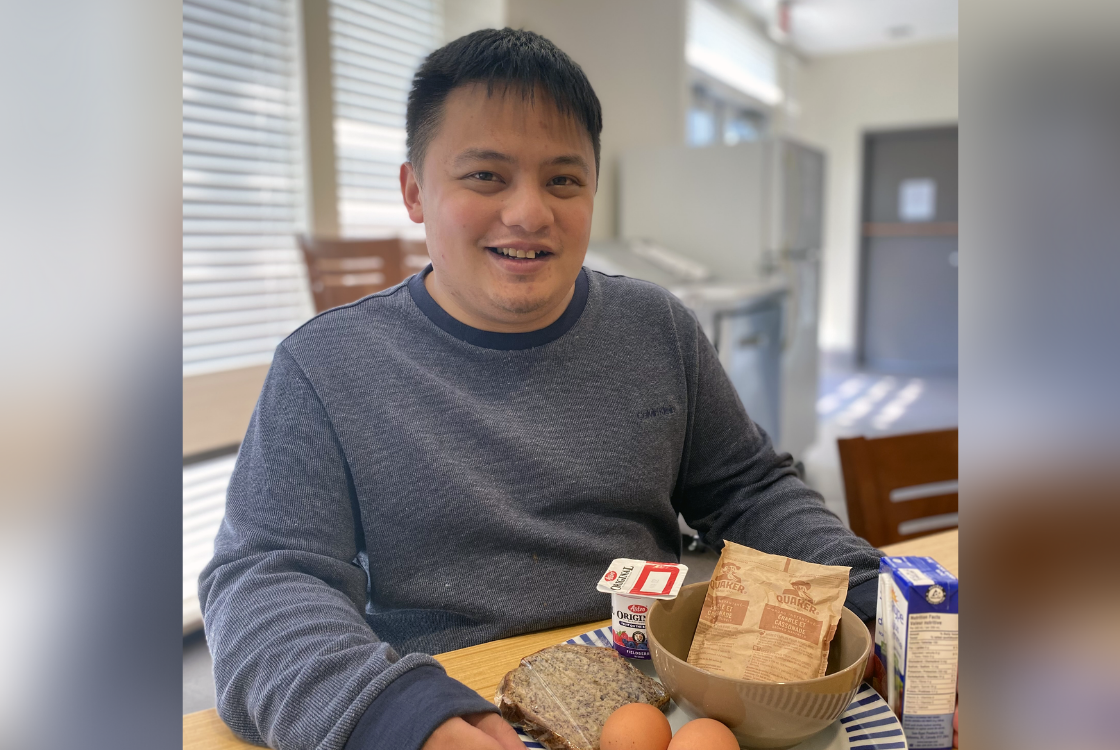 Kevin, a resident at Alouette Heights
Having a purpose
Kevin has been living at Alouette for six months. He is looking forward to getting involved with the Coast Street Clean Team and the gardening program.
The Street Clean Team allows clients to learn job preparedness skills, increase self-esteem and focus on things other than their mental illness.
"I enjoy working with the [Street] Clean Team because it keeps me busy. Instead of just sitting in my house for a while. Gets me out of the house," comments Kevin.
Employment programs, like the Street Clean Team, are vital in helping folks in their recovery from mental illness. For some, their mental illness is so severe that they're not able to consider full time work, while for others a slow re-entry to the workforce—regardless of their situation, through programs like the Street Clean Team are vital in their recovery journey. The structure of work gives people the motivation, routine and social connections to stay well and reintegrate into the community.
Thanks to your support, we can offer programs like these that allow our clients to build a better life.