British Columbian IT company challenges industry to bridge tech gap
Com Pro Managed Business Solutions, a Canadian provider of Managed IT and Print Services, has launched a challenge to encourage its industry to bridge the tech gap for non-profits such as Coast Mental Health.
Com Pro has generously kicked off the challenge by donating 15 iPads to Coast Mental Health, including tech support for an entire year. The iPads will be distributed to 13 homes and programs across the Lower Mainland. The donation will give hundreds of clients access to the tablets, whether it's to check in with their family and friends, or for a virtual doctor's appointment.
Closing the tech gap & creating connection
"One thing the pandemic has made clear is how important connection is to all of us. We want to create the opportunity and space for people living with mental illness to reach out or stay in touch with their support network.
"Technology can create connection and can be a powerful force in breaking down barriers to care and mental health support. By launching this challenge, we want to create momentum within our industry to close the technology gap". Mitch Clancey, President of Com Pro comments.
"Many of the 5,000 people Coast Mental Health serves every year don't have cell phones, tablets, or access to computers or internet. Computer access and an internet connection should be available to everyone— so no one is left behind, especially those that need it most." said Bruce Smith, COO at Coast Mental Health.
A new era of e-mental health 
Covid-19 has accelerated the need for us to connect with people living with mental illness in new, innovative ways.
"This new era of e-mental health offers great opportunities for us to increase accessibility and efficacy of mental health supports. Existing and evolving technologies have tremendous potential to transform the mental health system and positively change how resources are developed, delivered and received." he added.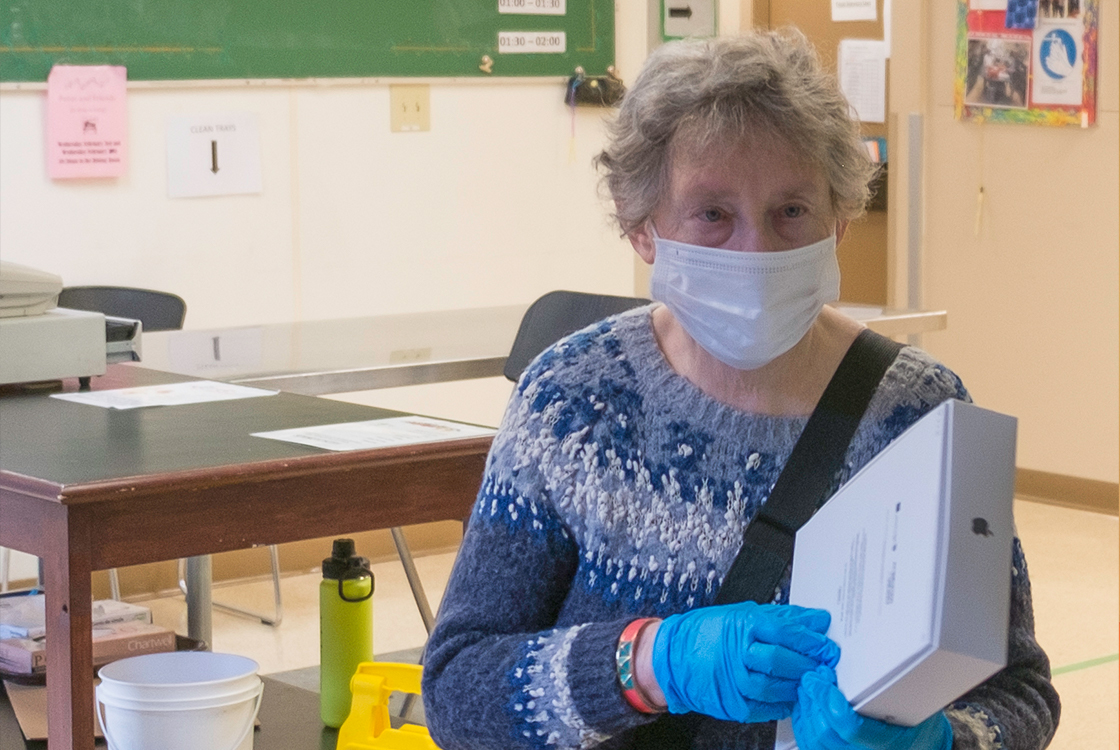 Coast Mental Health Clubhouse member Pauline with one of the donated iPads
A personal link 
Com Pro's Vice President Mike Hamfelt understands first-hand the impact of living with mental illness. In his mid 20s, he was diagnosed with Testicular Cancer: "I was very fortunate to recover physically, but was in total denial mentally, and I was dealing with depression and anxiety. I was isolating myself and embarrassed to talk about it when it seemed to me, that on the face of it, so many people were worse off than me.
"It wasn't until I joined Com Pro and I saw how much of the culture is focused on employee care that I felt safe enough to share my story. Before, I was so worried about what would happen if people found out, but in reality, I believe a lot of my success can be attributed to the things I have learned managing depression.

"And that's why we wanted to support Coast Mental Health in their mission to create a path for people to thrive. I believe this provides a real opportunity to start a dialogue within our workplace, and industry, while providing connection through technology to those that need it most."
You can help 
If you'd like to support the development of E-mental health and bridging the technology gap at Coast Mental Health Foundation, you can donate here, or contact Alyssa.goad@coastmentalhealth.com