Dave's Story : Transitional employment to gainful employment
Your donations open the door to meaningful work. Employment boosts self-confidence, adds meaning to our lives, and improves financial independence. Returning to work or beginning training that supports a return to work is both a milestone in recovery and a pathway to a better future.
Dave first came to Coast's Education and Employment services the way many clients do – through affordable and nutritious meals at Coast's Clubhouse. An initiative made possible through the generosity of our supporters. 
Dave started talking to other members and volunteering. "I washed dishes (every lunch hour) for a couple of months. I just came in, did a couple of hours, then left. So I got to know some nice people here," he explains. With all kinds of opportunities and a supportive atmosphere, clients move at their own pace to build the skills they're interested in. One of the opportunities Dave was introduced to at the Clubhouse was the Temporary Employment Program (TEP).
TEP offers clients the opportunity to gain experience, try different types of jobs and take on temporary contracts in a safe and supportive environment. Once completing this program, some clients may start another TEP placement while others find independent employment or training, including working with Coast On-Site Solutions and Landscaping with Heart, a Coast social enterprise.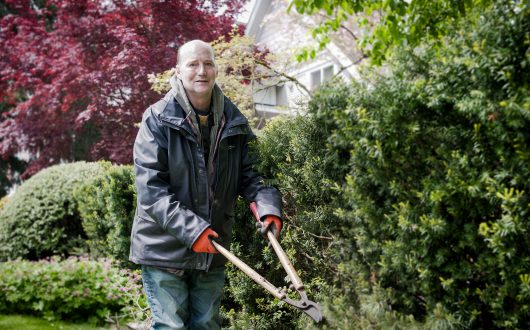 "We did a short course on working different jobs and after that I started out with Landscaping With Heart. We do lawn mowing, planting, weeding, pressure washing, …it's a good job." says Dave.
Your donations power the programs that helped Dave transition to supporting himself again. For Dave, it's been life-changing:
"I'm working again and feel a lot better. I always feel good at the end of the day, because I know I've done something right."