Aaron's Story: A New Way of Thinking
Depression, anxiety, and PTSD can make it difficult to engage socially, find motivation and be productive.
Aaron lives with all three, compounded by the impact of a workplace accident. He came to Coast Mental Health's Burnham Place after living in a shelter.
In partnership with BC Housing, Burnham Place offers 68 tenants with 24/7 supports including medication administration, recovery planning, life skills training, and education and employment services. 
Now, with the stability of a roof over his head and regular meals, he can access daily supports both at home, and at the Coast Clubhouse, just across the street.  
A New Way of Thinking
"The social worker at Burnham Place, Victoria. She said there's a course coming up, Brain Training" explains Aaron
"I was like, maybe I'll check it out. But once I started the class. It's so positive.
"I started learning new stuff I never really learned before. I have less stressful days now because I use some of the things I learned in the course"
Coast Mental Health's Cognitive Rehabilitation, or Brain Training, is a unique service for clients – the only of its kind in British Columbia.
The combination of Cognitive Behavioral Therapy (CBT), Dialectal Behavioral Therapy (DBT), Cognitive Remediation and activities are an innovative mix with real results.
"Without Brain Training, I'd probably be way more isolated and more depressed. And I would let fear take over, like I'd think all these different things. Like 'I'm kind of afraid to do this or that' and now I'm just like, just go for it," says Aaron with a smile.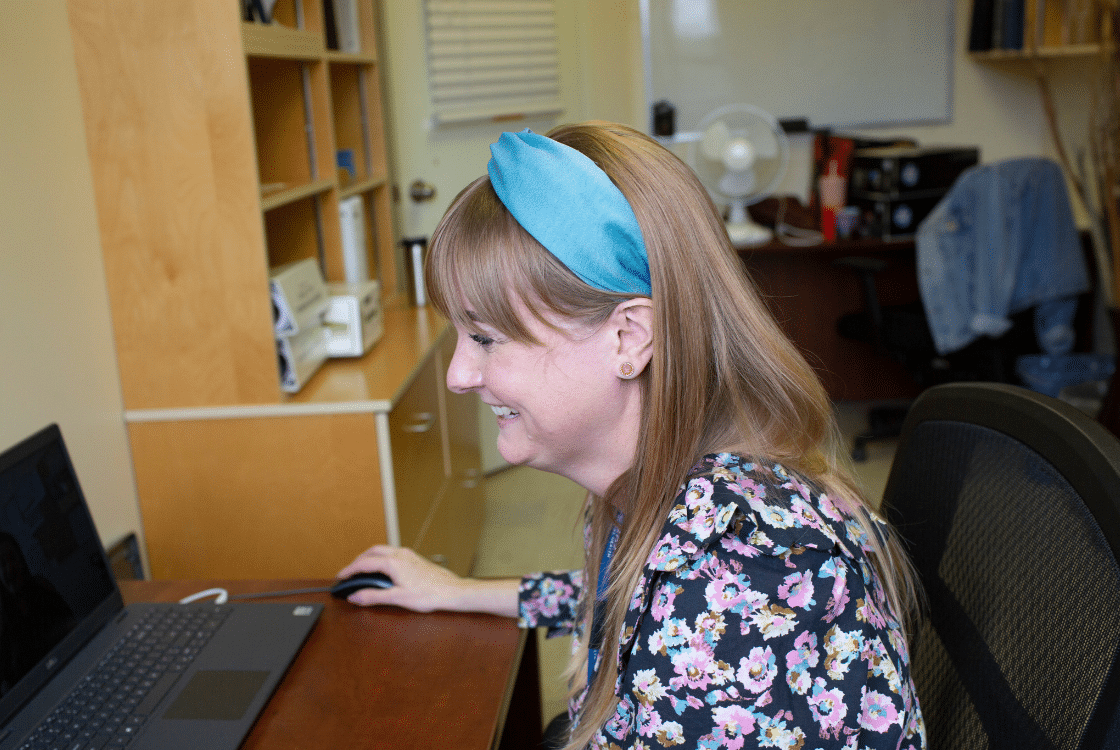 Melanie Nelson teaches brain Training
As a result of Brain Training, Aaron has experienced significant positive changes in his life.
"It opened me up to change my way of thinking, I think"
He has become more motivated, engaged, and social. He has learned to relax in stressful situations, stop and think before reacting, and not let negative thoughts take over.
These skills have enabled him to overcome some of the challenges he faces and have created space for hope to occupy his mind.
Giving Back
Today, the skills he has learned through the program have given him the confidence to pursue new opportunities.
"Before I wouldn't do that much, but now I go to Salvation Army. I'm kind of like concierge, people in need come for a sandwich and I go in the back and get a sandwich for them and maybe a drink."
"It brings me so much joy volunteering. I really like helping other people," reflects Aaron.
And he's participated in Douglas College's 'In Demand' program. The 12-week program provides skills and training to folks in need.
"There's so much I learned this stuff that I don't know, it seems simple, but it's really not"  he concludes.
You are making a difference
The transformative and life changing impact of Brain Training is only made possible because of kind people like you.
Your support means Coast clients and members can access the program either virtually or in-person across many Coast sites.
Thanks to your generosity, people living with mental illness, traumatic brain injuries or substance use disorders can improve cognitive performance, reduce cognitive decline, and increase functional independence in daily life activities.
Your commitment to providing support to individuals with mental health challenges has helped Aaron and many others like him to overcome their fears and anxieties and thrive in the community.
Aaron's story is an inspiration and serves as a testament to the transformative power of your support.
As Maya Angelou said, "Hope and fear cannot occupy the same space," and you help individuals like Aaron to make room for hope in their lives.